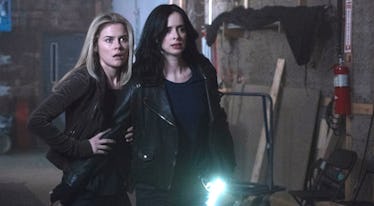 The 'Jessica Jones' Season 2 Opening Credits Will Make You Feel Invincible
Netflix
Jessica Jones is finally back, and with the return of Netflix's badass Marvel superhero series also comes the show's artistic and jazzy title sequence. Before each episode of Jessica Jones, viewers are treated to a cool, shadowy, neo-noir vignette to get them in the right mood for the dark and mystery-laden world of Jessica Jones. The opening sequence really is one of the best parts of the show, and now it's back, so we can revel in the Jessica Jones Season 2 opening credits all over again.
For Season 2, Jessica Jones keeps the same opening sequence that it used throughout its first season. But given that Season 1 of Jessica Jones debuted all the way back in the fall of 2015, nearly 3 year before Season 2 drops on Thursday, March 8, it is totally understandable if you may have forgotten about the cool little scene that opens every episode of the series. The opening sequence perfectly set the neo-noir mood for the gritty detective show, as shadowy figures skulk over a portrait-style backdrop of New York City's seediest corners. Over the images, tinkling pianos and horns play laid-back jazz, which erupts into a percussive, adrenaline-pumping beat towards the end, a signifier of the coming action. The Jessica Jones main theme was composed by veteran film and TV composer Sean Callery, who is best known for his work on the music of a number of hit action dramas, including 24, Bones, and Homeland.
You can check out the Jessica Jones opening sequence for yourself below:
Although the opening sequence may have stayed the same from Season 1, Jessica Jones did change a lot of things in its newly dropped second season. Most notably, now that Jones has killed Kilgrave in that first season finale, the super-powered detective is having to face down an all new foe... and her enemy this season is taking the form of a giant corporation rather than just one mind-controlling creep. Following the events of Season 1, Jessica Jones and her friend Trish and Malcolm are faced with a new mystery: What is IGH and what does it have to do with how Jones got her superpowers? Trish was the one who actually first uncovered those three mysterious initials towards the end of Season 1, having uncovered a file connecting Will Simpson's shady doctor, Dr. Kozlov, to the organization. She also deduced that Jones was somehow connected to IGH, although everyone obviously had their hands too full with Kilgrave on the loose to really dig into a new investigation.
But now, Kilgrave is out of the way and the big question that remains is whether IGH is responsible for Jessica Jones' powers... and why and how would they be giving away superpowers in the first place? Season 2 of Jessica Jones is all about these questions of Jones' origin story, and because there is no longer one big, visible supervillain to fight against, the season also involves a lot more mystery, investigation, and unexpected twists and turns. And because the main storyline of the new season has so much to do with Jessica Jones' origin as a superhero, we also learn a lot more about her early life, and the car crash that killed her parents and brother when she was just a kid. We already know that it wasn't until right after this fatal car crash that Jones' powers began to manifest, after she was adopted by Trish's mother, so the detective crew will be figuring out how IGH may have been involved in Jones' recovery from the crash... or even in the crash itself.