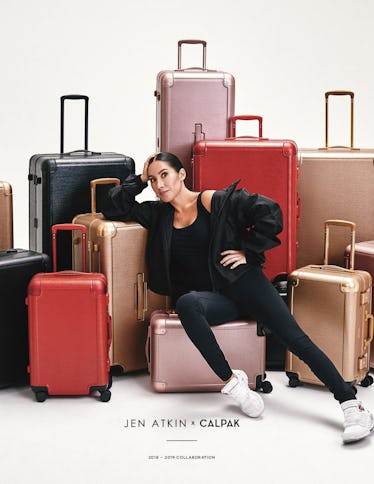 Jen Atkin Just Dropped The Dreamiest Luggage Collection & I Want It All
I'm always on the lookout for new luggage, but it can be difficult finding a collection that's both trendy and affordable. While I don't mind paying more for a higher quality carry-on, the price point for some of the most Instagrammable suitcases is way more than I can dish out. Luckily, I've always been a fan of CALPAK and their ridiculously cute bags that range from marble patterns to polka dots — and their newest collection is one I can totally get behind. Created in collaboration with one of the most in-demand celebrity hairstylists, the Jen Atkin luggage collection with CALPAK is seriously the stuff of dreams.
Over several months, Atkin asked her 2.6 million Instagram followers their opinions on what they look for in luggage — from size and color, to wheel and zipper preferences. What was created is not only a product of her collaboration with the CALPAK team, but it's also the brainchild of general consumers and frequent flyers who follow her.
"I had so much fun creating my very own CALPAK collection with the help of my fans and followers, through several months of crowdsourcing and Insta-polls," says Atkin via a press release from CALPAK. "Every detail was thought through and selected to create the collection that everyone has been looking for. Down to the zippers, lining material, wheels, colorways, interior compartments, handles and the packaging."
She continues, "We listened to every comment and request. We wanted to create a collection with the user in mind, so we went bold and decided to use a quick latch system with a TSA combo lock for the exterior, YKK zippers for the interior and 360 Hinomoto wheels. All top of the line components!"
When Atkin says that traveling is her "full-time job," she isn't kidding.
Atkin's clientele includes Bella Hadid, Kendall Jenner, Kim Kardashian, Chrissy Teigen, Sofia Vergara, Kaia Gerber, and many more A-list celebs. On top of that, she's the "She-E-O" of both Mane Addicts and cult-favorite haircare brand OUAI Haircare, and she's currently hosting masterclasses around the country with Dyson Hair — aptly named "Mane University" — to fulfill her mission of offering free hairstyling education to all aspiring stylists.
"I've wanted to create a luggage collection for years, as traveling is literally my full-time job," says Atkin via the press release. "My travel kit and suitcases have become such an important part of my life. I've really paid attention and taken notice to what has been missing from the industry."
The collection is the perfect combination of fun and chic to give you the #TravelInspo you've been longing for.
There are four different sizes — carry-on ($285), medium ($335), large ($385), and trunk ($385) — that each come in black, pink, gold, and red. Each bag also comes with a set of stickers so you can keep your suitcase scuff-free and also personalize it a little bit. (A bonus: No one can mistake your luggage for theirs.)
All of the bags are spinners, which is especially convenient when you're running to catch your connecting flight, or casually doing makeup for an A-lister's appearance on the Oscars Red Carpet. And instead of zippers for the exterior, they opted to put two TSA combination locks. The interior features multiple zippered compartments so you can easily sort your belongings (or your hair products).
I don't know about you, but I'm getting some major luggage envy just looking at these pictures. (I don't even think "luggage envy" a thing, but if anything can inspire it, this collection can.) BRB, going out to buy all of these now!