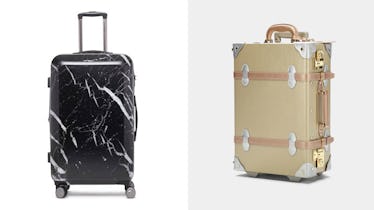 6 Instagrammable Suitcases That Are Actually Worth Every Penny
Calpak / SteamLine
Picture this: You're getting ready to go on a trip, and you've carefully selected your travel outfit (probably something chic inspired by Gigi Hadid, TBH). You're heading out the door and want to take a cute pic in front of the airport — but you realize that your luggage just isn't cute enough to warrant a permanent spot on your Instagram feed. If this has ever happened to you, you're probably in need of some new luggage inspo, so here are six Instagrammable suitcases that are worth every penny.
Gone are the days of simple black duffels — now, everyone wants to get their hands on a travel companion that will perfectly complement any outfit and will suit every possible travel occasion. Whether your taste leans more toward the simple and sophisticated, or bold and whimsical side, these luggage brands have come up with everything your heart could possibly desire. And don't fret at the price tags: As any seasoned traveler will tell you, a good suitcase is worth the investment if it means it'll last you more than a few years. (Bonus points if the bags look cute, too.)
Whether you're bookmarking trips for next year or need a new luggage for a trip coming up soon, take a look at these picturesque brands for a new bag that's seriously #TravelGoals.