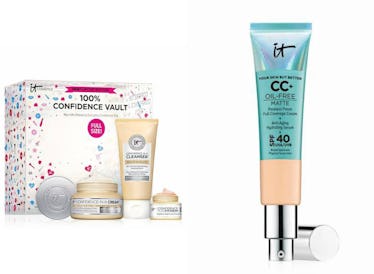 It Cosmetics Is Having A Major Sale On Their Award-Winning Complexion Perfectors
Courtesy of IT Cosmetics
IT's the most wonderful time of the year, because starting on Oct. 30, the much-anticipated IT Cosmetics Friends and Family Sale begins. If you're not dying to get your hands on the latest and greatest IT Cosmetics products for some strange reason, you definitely should be, because this brand has a major cult-following among influencers and beauty editors alike.
I, for one, am one of their biggest fans, and am 100 percent living for this upcoming sale. I use the Perfect Lighting Radiant Touch Magic Wand in Radiant Light ($29, itcosmetics.com) and the Brow Power Pomade ($24, itcosmetics.com) basically every single day, and when I'm looking for a bit more foundation coverage for a night out, I don't even hesitate when choosing the Your Skin But Better CC+ Cream Oil-Free Matte Foundation in Light ($38, itcosmetics.com) over all my other foundations. It covers just the right amount acne and pigmentation on my skin, but doesn't make me look like I just opened a bottle of thick foundation and poured it all over my skin—it blends in seamlessly and leaves me with an oil-free, matte finish.
Not only do I love the makeup products that IT Cosmetics offers, but the makeup brushes and tools are truly some of the best in the beauty biz. The Heavenly Luxe Flat Top Buffing Foundation Brush #6 ($48, itcosmetics.com) is a must for powder foundations, and the Heavenly Luxe You Sculpted! Contour & Highlight Brush #18 ($35, itcosmetics.com) is really clutch for contouring my very round face.
If you're not really into contouring or messing with your brows, there's many other amazing makeup and skincare products waiting to make their way into your daily beauty routine on ITCosmetics.com. From Oct. 30 to Nov. 4, IT Cosmetics will be offering 25 percent off of any order over $30 with the code FF2018. Not only will you be saving so much money with this code, but you'll also receive a free "Start Your Day with Confidence Set" when you spend $60 after the discount is applied.
What's in the "Start Your Day with Confidence" set, you ask? Just three of IT Cosmetics' hero products, including Confidence in a Cream, Confidence in a Cleanser (travel size), and Confidence in an Eye Cream (travel size). Perfect for the dropping temperatures and drier skin, these three products are super hydrating and can be used on even the most sensitive skin.
If you feel like you're already stocked up on IT products for yourself, you can use this code to purchase curated gift-sets for your family and friends before the holiday-craziness begins. From super-soft brush sets, like the Heavenly Luxe On The Go Makeup Brush Set ($50, itcosmetics.com) to an all-you'll-ever-need makeup palette, like the IT Girl Vol. 2 Makeup Palette ($38, itcosmetics.com), there is something for everyone on their site. Who doesn't love some makeup in their stocking?
Whether you're a long-time IT Cosmetics lover, or you're relatively new to the fam, it's time to take advantage of the best deal of the year and stock up on all your beauty needs before they're all gone!