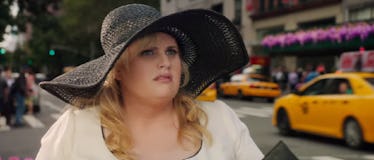 The 'Isn't It Romantic' Trailer With Rebel Wilson & Liam Hemsworth Isn't A Normal Rom-Com
Warner Bros. Pictures
Netflix helped revive the art of the rom-com, but this Valentine's Day, we can expect another light and fluffy romantic comedy to hit the big screen. Isn't It Romantic may have the sunny look of the classic rom-coms you play on a loop during heartache or sickness, but this upcoming film with a magical twist isn't quite like the similarly spellbinding 13 Going on 30. The Isn't It Romantic trailer starring Rebel Wilson and Liam Hemsworth proves it isn't your typical rom-com, but you may not mind these differences.
Due to hit movie theaters on Valentine's Day 2019, Isn't It Romantic stars Wilson as New York architect Natalie, but like most of pop culture's Manhattan architects (Ted Mosby, anyone?), her love life is less than stellar. Told from an early age that romantic comedies didn't feature average people like her, the cynical Natalie is a little guarded when it comes to love. After hitting her head, she wakes up the next morning to discover that her life has been transformed into the exact kind of cliche rom-com that she loathes. Although she's initially determined to escape this PG-13 world, her thoughts begin to change when she meets Hemsworth's dreamy Blake.
From dancing in musical numbers in Central Park to suddenly having a stereotypical gay sidekick, Natalie's journey also comes equipped with an unrealistically glamorous apartment, a cheesy soundtrack, and an inability to utter R-rated curses. In a clever nod at tamer rom-coms' tendencies to cut to the morning after couples' hookups, she seemingly even misses out on sexy times with Blake. Basically, being stuck in a rom-com isn't quite the blast we think it may be.
Also starring Priyanka Chopra and Wilson's Pitch Perfect co-star Adam DeVine as a couple that falls in love at first sight, as well as GLOW star Betty Gilpin, Isn't It Romantic completed filming in New York in July. Wilson commemorated the shoot with several Instagram pictures, including a group shot with her co-stars, producer Gina Matthews, and director Todd Strauss-Schulson. In a caption accompanying that pic, she wrote:
These guys are so talented, I'm so lucky to have them in my movie. Liam's a stud muffin obviously, who's so funny too! Priyanka crushes everything she does whilst looking impeccable at all times. Adam is just the best (Fat Amy & Bumper 4 ever) and I respect him so much and adore working with him. Just announced Emmy Nominee Betty is just a phenomenally talented person who is also the sweetest...
While the trailer hints that Natalie grows to love her new life, anyone skeptical about Isn't It Romantic's meta parody of rom-coms can rest easy. Although screenwriter Erin Cardillo wrote the script's first draft, Set It Up scribe Katie Silberman was among several writers who later revised the screenplay. If you're still thinking about that pizza scene in the Netflix summer hit, it's safe to say we're in good hands with Isn't It Romantic.
It's a little non-traditional, but I'm ready for Isn't It Romantic to join the new wave of sweet romantic comedies. After all, who doesn't love a cliche or two?
Isn't It Romantic is in theaters on Feb. 14, 2019.