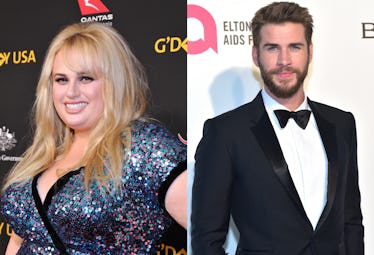 Liam Hemsworth & Rebel Wilson Are Starring In A New Rom-Com & I'm Already Laughing
John Sciulli/Getty Images Entertainment/Getty Images & Rodin Eckenroth/Getty Images Entertainment/Getty Images
2018 is clearly the year of the revitalization of romantic comedies, and I couldn't be more thrilled. We first saw the release of the surprise Netflix hit Set It Up, and by the end of the summer, Little Italy, a rom-com with quite a throwback style, will reach audiences. More endearingly lovely stories are in the works, and the cast in the latest upcoming addition to the rom-com canon already has me hooked. Rebel Wilson and Liam Hemsworth will star in Isn't It Romantic?, and I'm totally ready for an inevitably hilarious and heartwarming movie helmed by this duo.
Although the rom-com project has been in the works since at least 2016, Isn't It Romantic? has recently finished shooting in New York City. Wilson stars as a cynical woman who realizes her life has become a romantic comedy when she's caught in a love triangle with Hemsworth, her major crush, and Adam Devine, Wilson's Pitch Perfect co-star who her character has kept in the friend zone. While screenwriter (and former Suite Life on Deck star!) Erin Cardillo wrote the first draft of the script, Set It Up scribe Katie Silberman was among several people who later revised the screenplay. Well, those credentials alone are enough for me to put this on my to-watch list.
Wilson has kept fans posted on the movie's progress via her social media, announcing the last day of filming as July 16. In case you've spotted paparazzi photos of a beautifully bearded Liam Hemsworth holding a saxophone, know that his longtime love Miley Cyrus didn't persuade him to embrace the music in everyday life. Rather, he was filming a scene for Isn't It Romantic? with a sax in hand, and Wilson enjoyed the sight just as much as we did. Who needs repeats of The Last Song when we have this version of Hemsworth coming our way soon?
The cast also includes Priyanka Chopra and GLOW star Betty Gilpin, while Todd Strauss-Schulson is directing the movie. As filming concluded, Wilson took to Instagram to pen a heartfelt message to her co-stars and crew, which makes me even more excited to see this movie on Valentine's Day. Wilson wrote:
Second last day of shooting ISN'T IT ROMANTIC in New York with our leader @straussschulson and producer Gina Matthews x These guys are so talented, I'm so lucky to have them in my movie. Liam's a stud muffin obviously, who's so funny too! Priyanka crushes everything she does whilst looking impeccable at all times. Adam is just the best (Fat Amy & Bumper 4 ever) and I respect him so much and adore working with him. Just announced Emmy Nominee Betty is just a phenomenally talented person who is also the sweetest...
According to Refinery29, the movie's shoot has actually lasted longer than most recent, fairly low-budget romantic comedies. The cast first started filming in June 2017, and Wilson even suffered a concussion on set last August. Clearly, that didn't slow down her enthusiasm for the project. Blame it on her brightly colored clothes in all of these behind-the-scenes photos, but I'm getting serious La La Land vibes from Isn't It Romantic?. I've wanted an Enchanted-esque cinematic dance number throughout New York City for years, and I'm hoping it's not just wishful thinking that Isn't It Romantic? will fulfill that need.
Now that its filming is over, here's hoping that we see a finished trailer for Isn't It Romantic? soon. Who else wants to ride this rom-com wave until the very end? The genre is back and life at the movies is good.
Isn't It Romantic? is in theaters on Feb. 14, 2019.