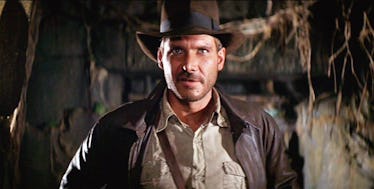 The Newest 'Indiana Jones' Film Has Been Delayed, So You Can Forget That 2020 Release
Paramount Pictures
As no classic movie franchise can get by without a reboot nowadays, moviegoers have grown accustomed to the idea of the hottest college professor around returning for a fifth Indiana Jones film someday. Franchise director Steven Spielberg was optimistic about bringing back Harrison Ford's beloved character for another adventure, but it looks his confirmation of Film 5 hitting theaters in 2020 isn't holding up very well. The Indiana Jones 5 release date has been delayed, so you probably shouldn't count on seeing it in 2020.
Although the fifth film was previously scheduled to debut on July 10, 2020, Variety reports that the cast and crew won't begin shooting in April 2019 in the United Kingdom as planned. The production timeline will now be pushed back by months, or even a year, because of disputes over a final version of the script. According to Collider, Jonathan Kasdan, the son of Raiders of the Lost Ark screenwriter Lawrence Kasdan, has replaced original writer David Koepp on Indiana Jones 5. The delay comes after older, obviously defunct discussions about the long-awaited sequel being released in 2019.
Had the new movie hit theaters in 2020, it would mark 12 years since the last Indiana Jones movie in 2008. Kingdom of the Crystal Skull premiered 19 years after its predecessor, The Last Crusade, so although it seems like forever since we sat through Shia LaBeouf trying to measure up to Ford, old-school Indy fans have waited much longer for a new franchise addition. The Indiana Jones movies have also always reflected real-life time gaps, with Kingdom of the Crystal Skull taking place 19 years after Last Crusade's 1938 setting. Should it ever happen, we can expect to see the fifth film take place in the late 1960s or early '70s. Groovy, man!
Sources tell Variety that both Spielberg and Ford are still committed to the upcoming movie, but Spielberg has quite a full plate of projects ahead of him. Some of his works in the near future include a remake of the movie musical West Side Story and a possible historical drama with Oscar winner Mark Rylance, who Spielberg worked with on Bridge of Spies and The BFG.
Meanwhile, it's safe to say that Ford will embrace daredevil stunts until the day he dies, as his age is far from being a reason not to make another Indiana Jones film. In a 2016 interview with the BBC, Ford revealed that he was always willing to do another movie as long as Spielberg was involved, saying:
I've always thought there was an opportunity to do another. But I didn't want to do it without Steven [Spielberg]. And I didn't want to do it without a really good script. And happily we're working on both.
However, as a Movieweb piece ever so gracefully points out, Ford isn't getting any younger, and if this movie keeps getting delayed, there could be a greater likelihood of Indiana Jones' role diminishing, as Han Solo's did in the first Stars War reboot. Remember that Red Nose Day sketch of Anna Kendrick playing Indiana Jones? Should we ever face a reality without Ford tied to the franchise, I'm definitely down for a female-helmed adventure flick starring her. Kingdom of the Crystal Skull revealed that Indy had a long-lost son, but I probably wouldn't be the only fan who's fine with pretending Mutt Williams doesn't exist and that Indy has a daughter instead.
Despite this ominous delay in the fifth film's making, Disney has yet to officially remove it from its original July 2020 release date or announce a new premiere date. Hopefully the new movie won't head down the path of those elusive Avatar sequels that James Cameron insists are being made. Fingers crossed that we receive more clarity about the next Indiana Jones film soon!