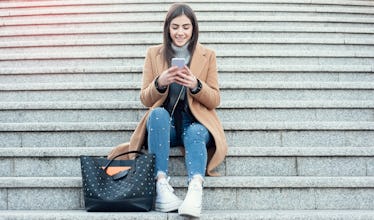 The "I Love You" Text To Send Your SO, Based On Their Zodiac Sign
Francesco Carta fotografo/Moment/Getty Images
From bringing your boo a cup of coffee in bed to showing up to their little sister's dance recital, there are many ways to say "I love you" without literally saying it. Of course, when technology comes into play, there are even more routes to express your feelings to the person you're seeing. Whether you make them a Spotify playlist or let them beat you at Words with Friends, a digital "ILY" comes in all shapes and sizes. And if you're looking to pen the best "I love you" text to send your partner (that says so much more than just "I love you"), knowing their zodiac sign may give you all the answers.
While astrology can't dictate everything, it can be fun to consider how the zodiac impacts your personal tastes. Perhaps your boo is a glamorous Leo who lives for some verbal affirmation. Or maybe they're a soulful Pisces that loves to share books. Whatever the case, knowing your partner's sign may help you communicate with them in the ways that work best for them.
And if you're looking to get a little sappy in your inbox, here is the best 'ILY' text for every zodiac sign.