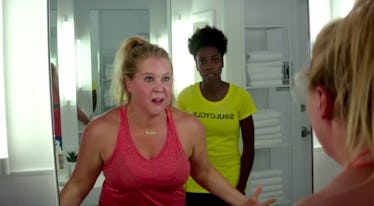 Amy Schumer Just Dropped Her New Movie Trailer & It Will Have You Crying From Laughter
YouTube
Amy Schumer is taking self-confidence to its delusional extremes in her hilarious new movie trailer, which stars the comedian as an ordinary woman who bumps her head and wakes up thinking that she is basically a Kardashian. Schumer stopped by The Ellen DeGeneres Show on Thursday morning to debut the first official trailer for her next big comedy film I Feel Pretty, and it already looks like the most balls-to-the-walls hilarious movie of 2018. Seriously, Amy Schumer's I Feel Pretty movie trailer is going to get you seriously pumped for this summer, when its scheduled to come out.
Before unveiling the new trailer on Ellen, Amy Schumer described the totally zany but also sneakily inspiring plot of I Feel Pretty. Schumer stars as Renee, a woman unhappy with the way she looks — and it doesn't help that she has to listen to literal supermodel Emily Ratajkowski complain to her about low self-esteem. But all of that changes for Renee after she falls off her bike at SoulCycle and wakes up thinking that she is the most beautiful woman in the world.
My character Renee, she kind of has low self-esteem, and she wants to be pretty and feel all the parts of life that open up to you when you're just gorgeous. And then I fall off my bike in SoulCycle and I start seeing myself as a supermodel. So, I look exactly the same, but in my mind I am Gisele, I am one of the Jenner-Kardashians: gorgeous.
The rest of the trailer shows Renee totally flaunting what she believes to be her newfound supermodel hotness... unaware that her appearance has not actually changed at all. She does a full twirl for her friends (Busy Philipps and Aidy Bryant) at the club, flaunts her bod in front of her love interest (Rory Scovel), and even fearlessly walks into a meeting with Naomi Campbell to discuss becoming a model. Of course, everyone else is totally mystified by Renee's alarming levels of self-confidence.
Check out the full I Feel Pretty trailer for yourself below:
The new movie will also star Michelle Williams as Renee's boss at a cosmetics company and Sasheer Zamata as the SoulCycle employee that helps Renee after her fall. I Feel Pretty is slated to premiere nationwide in theaters on June 29.
I Feel Pretty will mark Amy Schumer's third leading role in a big-budget movie. In 2015, Schumer wrote and starred in the romantic comedy Trainwreck, followed by costarring with Goldie Hawn in last year's mother-daughter action comedy Snatched. The subject matter for I Feel Pretty sounds somewhat similar to the live-action Barbie movie that Schumer was initially signed on for, which was being billed as the story of a woman who does not fit in among the perfect Barbies that she lives with, so she ventures off into the real world. Schumer dropped out of that movie last summer, and was replaced by Anne Hathaway... although now the project has been pushed back to 2020.
Along with I Feel Pretty, Amy Schumer is also currently starring on Broadway in Steve Martin's new comedic play Meteor Shower. She also has a movie script that she's been working on with Jennifer Lawrence for a little over a year now, which is intended to costar the two real-life friends. Although it has been a while since that movie was first announced, Lawrence recently reassured us that it is still in the works.
Get your confidence up to go check out Amy Schumer's new movie I Feel Pretty when it lands in movie theaters this summer, on June 29.