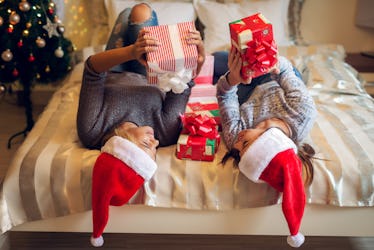 The Hottest Holiday Gift Trend For Your BFF This Year Is Here & It'll Make Her Nostalgic
It's clear you know your bestie better than anyone else. It's even eerie (and honestly, #goals) how you can finish each other's sentences. You always know what she's thinking, even when she doesn't say a word. That's what makes you the truest pair of soul sisters, and the reason why you want to find her the most perfect holiday gift this year. Since you know every single thing she likes, it can be difficult deciding on just one present. When you're overwhelmed with the options, you might draw inspiration from the hottest holiday gifts 2018 for your best friend, according to Etsy.
Nowadays, online shopping is the way to go. With just a simple search, you can find pretty much everything you're looking for. That's why Etsy is my go-to place when I'm looking for gifts that I know my friends and family will love. Not only do they have whimsical, cute jewelry, but Etsy is all about going that extra mile with a personalized touch. So instead of a plain BFF bracelet, consider buying one that's super unique to your friendship. In fact, according to Etsy, friendship bracelets are must-have gifts for besties this year.
You could do a simple search of your own, but I've made it so much easier for you with these five items that any bestie squad needs to have. Instead of shopping all day long and navigating the crowds at the mall, you can drink hot cocoa in your pajamas and watch Elf with your main squeeze. Sounds like a dream come true to me!