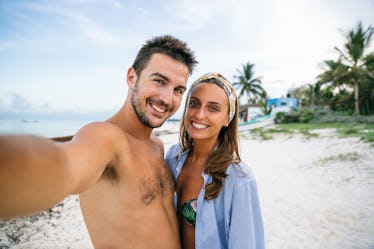 The Honeymoon Destination To Avoid Based On Your Zodiac Sign, So Don't Book That Flight
To me, the best thing about getting married has to be the honeymoon. (Well, I mean, besides the whole pledging to spend your life with the person you love most in world thing, I guess. But hello, honeymoon!) That means fun, sun, relaxation, and exploring a new place you've probably never been to before. It's a big deal, which is why it's just as important to know the honeymoon destination to avoid as it to know what place would be the perfect post-nuptial getaway for you and your brand new spouse. Because picking the wrong destination would not only be a bummer note to start your new married life on, but it's also just a huge wasted opportunity.
But how do you know if somewhere just isn't the right fit for you if you've never visited before? Well, every location is someone's dream locale and another person's nightmare, whether that's because of the activities, the general vibe, or just what you tend to focus on more about the places you visit. Basically, it comes down to your personality, which is why considering which honeymoon spots are a bad fit for your zodiac sign makes so much sense and can actually be really useful. So, before you book that flight, consider if your destination is actually a good fit according to the stars.