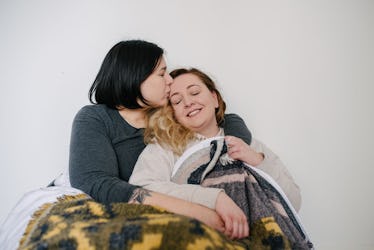 No One Tells You Your Sex Life Benefits Your Health In These 5 Ways, But It Totally Does
Orgasming doesn't just feel amazing; it improves both your physical and mental health in so many ways. Whether you're masturbating or having sex with a partner, all the stimulation and pleasure happening throughout your body can have long-lasting effects that go far beyond a single, toe-curling moment of satisfaction. In other words, there are a handful of hidden health benefits of sex that you probably had no idea were even related to your time in the bedroom. But make no mistake: Each time you find pleasure in your sex life, you're technically taking care of your health, too.
In fact, according to Laurie Mintz, Ph.D., a sexpert, therapist, and author of the book Becoming Cliterate: Why Orgasm Equality Matters—And How to Get It, whether you're having sex with a partner or climaxing on your own, "there are so many physical and emotional health benefits to sexual activity that it is difficult to limit it to just one or two."
Mintz filled us in on five benefits in total (more on those in a bit), but, she notes, many of them tend to come from the experience of orgasming in and of itself, not just sexual activity. "For women, there is clear research evidence that those who use vibrators have more frequent and easier orgasms," Mintz tells Elite Daily over email. "So, to up these physical benefits of sex, I recommend purchasing a vibrator." And since many women orgasm from clitoral stimulation, Mintz recommends a clitoral vibrator, like the ones sold by sex toy brand LELO.
And while you're enjoying some "me time" with your new vibrator, know that you're also doing these five amazing things for your overall health.