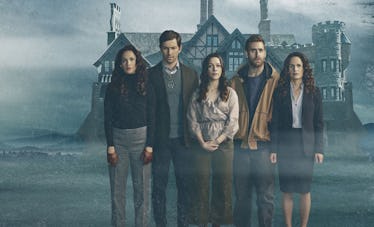 'The Haunting Of Hill House' Might Go Full 'AHS' & Use The Same Cast In New Roles
Netflix
Even though Netflix still has yet to officially pick up a second season of The Haunting of Hill House, the ghostly drama was such a hit that Season 2 feels inevitable. But the real question is what a second season might even look like. Showrunner Mike Flanagan has said that he feels the Crain family's story is completely finished, which means a potential Season 2 would focus on a whole new batch of characters. But, might those new characters still look familiar? The Haunting of Hill House Season 2 could use the same cast in new roles as it continues, similar to American Horror Story's model. A new interview with a star of the series has fans thinking that although the Crain family may be gone, we will still see the actors we loved in Season 1 in the series again.
There have been a lot of theories and pitches about what a potential second season of The Haunting of Hill House might look like after showrunner Mike Flanagan confirmed that the Crain family will not be in Season 2 at all if it happens. One of the ideas that Flanagan did mention in an interview is the possibility of an anthology series, meaning that Season 2 would leave Hill House and tell the story of a completely new haunted place. The move would undoubtedly draw comparisons to other hit horror anthology series American Horror Story, and it might lean into that similarity even more by recasting its main slate of actors into new roles each season.
Carla Gugino, who played the Crain family's troubled matriarch Olivia Crain in Season 1 of The Haunting of Hill House, reiterated Mike Flanagan's interest in going the anthology series route in an interview with The Hollywood Reporter, and added that it might include bringing back the Season 1 stars to play new characters. She said she would be down to play someone other than Olivia Crain in Season 2 if that's where Flanagan decides to take the show:
Mike Flanagan said he would be interested in the notion of an anthology, where some actors come back to play different characters. I think he feels like he has told the complete story of the Crain family. But if I was invited and I was able to, I would really love to, just because I do love to collaborate with him.
This model probably sounds familiar to American Horror Story fans. Ryan Murphy's long-running horror anthology is known for reusing a core group of actors who are recast into new roles each season.
As of right now, though, this AHS-style model is only one idea bubbling up from the show's cast about where Season 2 could possibly go. Since Netflix still has not even officially picked up a second season of The Haunting of Hill House yet, it is too early to really know where the show might go if it continues. There are other theories that the show may remain at Hill House (it is in the title, after all) and delve into the history of the home, or show a new family's experience living in the haunted house.
We will have to wait to see if The Haunting of Hill House gets picked up for Season 2 to find out what the series will become.