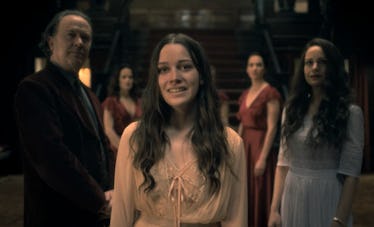 If 'Haunting Of Hill House' Gets A Season 2, The Crain Family Won't Be In It
Netflix
Netflix's The Haunting of Hill House managed to scare up a devoted fanbase after its first season dropped last month, and now everyone is hoping that a second season of the ghostly family drama might come to Netflix in the future. But even if the show gets picked up for a second season, showrunner Mike Flanagan says that it will look completely different from Season 1. The Crain family won't be in Haunting of Hill House Season 2, Flanagan revealed in a new interview with TVLine, so if the show does get a second season, it will focus on a whole new batch of characters.
The first season of The Haunting of Hill House centered on the splintered Crain family. In the past, parents Hugh and Olivia Crain moved into the haunted mansion Hill House with their five young children: Steven, Shirl, Theo, Luke, and Nell. The strange, supernatural events that occurred during their stay went on to tear the family apart in the present day. Finally, the Crains are led back to Hill House in the season finale, where they learn that the spirits of both Olivia and Nell are now living there. The house also attempts to trap the rest of the Crain children, but Hugh is able to save them by sacrificing himself. In the last moments of the season, we see that Steven, Shirl, Theo, and Luke have all been able to put Hill House behind them and carry out happy and healthy lives at long last thanks to their father's sacrifice.
It is a surprisingly happy ending for a horror show, and that is how writer/director Mike Flanagan wants to keep it. Flanagan said that he considers the Crain family's story completely finished after Season 1 of The Haunting of Hill House, so if the show does get picked up for a second season, it will not feature the Crains at all, not even in cameos:
I think we tied up all of those threads exactly how they should be. I don't really see a need to revisit those characters, even in cameos ... I want to remember them the way we left them, and leave them to their lives.
OK, so then what might a potential Season 2 be about if not the Crains? Mike Flanagan has actually teased a few ideas for new directions the show could take. In previous interviews, Flanagan mentioned that much of the historical elements of how Hill House came to be haunted had to be cut from the first season so that it would not pull too much focus from the Crains. We meet and learn about a few of the ghosts dwelling in Hill House, but never get the full story. Perhaps Season 2 will take us into the past and focus on the doomed Hill family.
Another thing that Flanagan mentioned is possibly becoming an anthology series, shifting focus to a whole new haunted location in Season 2 — though that would probably also involve changing the show's name from The Haunting of Hill House if there's no Hill House, right? And then of course, there is also the possibility of following a new family that moves into Hill House and has to deal with all those ghosts.
As of right now, Netflix has not officially picked up The Haunting of Hill House for a second season, so we will just have to wait and see if Season 2 ever even happens.