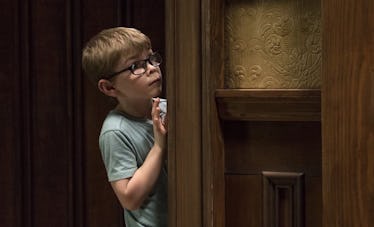 3 'The Haunting Of Hill House' Season 2 Theories That Will Give You Chills
Netflix
The Haunting of Hill House took Netflix viewers on a ghoulish saga through the life of the Crain family, and although the show has exploded in popularity online, the Season 1 finale kind of makes it hard to imagine what a possible second season might even look like. At this time, Netflix has yet to officially pick up another season, but creator Mike Flanagan has spitballed a few ideas for how to continue the story. These The Haunting of Hill House Season 2 theories imagine some of the most likely ways that the show could follow up its first season.
Spoiler alert: This post will include details from the entire first season of The Haunting of Hill House. Showrunner Mike Flanagan spoke about the possibility of a second season for The Haunting of Hill House in a recent interview with Entertainment Weekly, saying that if there is another season, it will not revolve around the Crain family. This should not come as much of a surprise for anyone who has finished Season 1 — in the season finale, the Crain children escape the Red Room and finally see the truth about Hill House. We then see them all go on to repair their relationships and personal lives in a big happy-ending montage. It is a surprisingly sweet ending for the horror series, and one that really does not invite any follow-up at all.
But there is still hope for fans who want more The Haunting of Hill House. Mike Flanagan teased a few ideas for a possible Season 2, and they all go in very different but exciting directions.
1. The history of Hill House
According to Mike Flanagan, most of the episodes in Season 1 were meant to open with a flashback to Hill House before the Crains moved into it, but those scenes had to be cut due to time and money:
We had actually written and planned to shoot a complete history of Hill House. Every other episode would open with about a five-minute history thing narrated by Steven, from his book ... We had built a really complex history of the Hill family that we ultimately didn't shoot. We didn't have the time or the money to shoot it, which really broke my heart at the time.
We learned a bit about Poppy, Hazel, and William Hill throughout the first season, but so much about the lives of the Hill family and the lives of the other spirits in Hill House remain unknown. Since a deep dive into Hill House's history had to be scrapped in Season 1, it could be the perfect focus for a second season.
2. Another family moves to Hill House
Mike Flanagan made it clear that a second season would not be about the Crain family, so the logical next supposition is that it will shift focus to a new family. Of course, it might be hard to up the ante with this concept since viewers already know about the ghosts and the Red Room and other specifics, but this would also be the best way to feature some of the Crains in recurring or cameo roles.
3. Leaving Hill House behind to become an anthology series
Although the series is called The Haunting of Hill House, Mike Flanagan also floated the idea of leaving Hill House altogether for a second season, turning the show into an anthology series about haunted places and haunted people:
I think that there are all sorts of different directions we could go in, with the house or with something completely different. I love the idea of an anthology as well ... More than anything, the show is about haunted places and haunted people, as Steve says, and there's no shortage of either. So, there's any number of things we could do, in or out of Hill House.
Netflix has not yet picked up The Haunting of Hill House for a second season, so these are just some wishful ideas right now, but hopefully we will get to see one of them come to fruition.