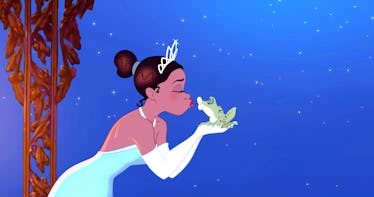 The Disney Love Story You Relate To Most, Based On Your Zodiac Sign
I am not ashamed to admit I'm a hardcore Disney fan. I own just about every Disney movie in existence and have seen each one at least a dozen times. (Except maybe Oliver & Company, but let's not go there.) So, you can bet I have a lot of feelings about these movies, especially Beauty and Beast, my all-time fave. While it makes sense that everyone has a Disney love story you relate to most, it never occurred to me that one of the reasons this movie really resonates with me is how much I can identify with the love story. (OK, not the Stockholm Syndrome parts, but the way Belle and Beast's love story develops.) This is especially clear when you take my zodiac sign into account. Let's just say there are some serious Virgo romance parallels there.
This all got me thinking: If there's a Disney love story that speaks to my zodiac sign, what movies best represent the love stories of the rest of the zodiac? Because there has got to be a Disney romance for everyone, right? So, with that in mind, here's the Disney romance that's most likely to resonate with you, based on your zodiac sign.