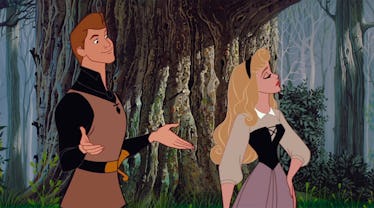 The Disney Prince You Would Permanently Friend-Zone Based On Your Zodiac Sign
I have bad news: For the most part, Disney's princes are actually kind of the worst. There are a few I might hang out with because they seem fun or have cool toys like, ya know, magic carpets and space ships and what not. But date them? Even the fun ones aren't exactly the finest boyfriend material — they're the Disney princes you would friend-zone, because quite honestly, most of them have some seriously whack gender politics and come on way too strong. While you might be able to make a case for, say, Prince Naveen post-frog curse, for the most part, it's going to to be a pretty hard no.
That being said, some are definitely worse than others. Prince Charming? Hard Pass. Prince Florian? Don't even get me started. These guys are practically a walking, talking patriarchy. So yeah, they probably aren't exactly the dream partner that they're branded to be. And depending on your personality type and preferences, that could make them less desirable to date, in a "let's just be friends" kind of way, if you know what I mean. So, this is the Disney prince you are most likely to friend-zone based on your zodiac sign.