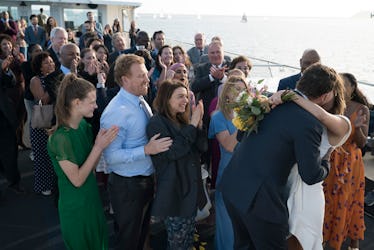 The 'Grey's Anatomy' Season 15 Premiere Date Was Just Announced, So Get Your Scalpel Ready
ABC
You know we've reached the dog days of summer when fall TV premiere dates have been released. Following the recent news of a theme as "the Season of Love" for its upcoming year, the Grey's Anatomy Season 15 premiere date was just announced. Time to don your white coats and head back to Grey Sloan Memorial!
ABC just released its full list of fall TV premiere dates for both returning and new shows, and the premiere of Grey's Anatomy Season 15 kicks off a night of partial returns for ABC's Shondaland shows. On Thursday, Sept. 27, the show returns with a two-hour premiere starting at 8 p.m. ET before Season 5 of How to Get Away With Murder starts at 10 p.m. Season 2 of the Grey's Anatomy spinoff Station 19 begins the following week on Thursday, Oct. 4, at 9 p.m. ET. BRB, I have to start planning my watch party now.
While cast member Camilla Luddington assured at a Comic-Con appearance that Season 15 will essentially begin right where we last left the Seattle doctors, TVLine has also reported that the new season will be called "The Season of Love." After returning to the series after a six-year absence, showrunner Krista Vernoff began a slow and steady return to lighter, more romantic content on Grey's Anatomy throughout Season 14, and as a result, last season ended with Jo and Alex's wedding.
While the theme of love hasn't appeared in any official ABC content yet, perhaps we'll see it come across once Season 15 promos begin airing. What with so many relationships always budding at the hospital, is it finally Meredith's turn to have an encounter with Cupid again?
The Season 14 finale also wrapped up plenty of loose ends, which provides the upcoming season with a relatively blank slate. Teddy, back in Seattle after leaving her military job, revealed she was pregnant at the end of Season 14, and actress Kim Raver was brought back as a series regular, meaning Teddy's Season 15 role ought to be substantial. Other than that, the only major clues we have of possible storylines tie back to Jo and Alex's newlywed days. Of course, I don't think too many fans would complain if Scott Speedman's Nick Marsh returned to expand his relationship with Meredith, either.
Meanwhile, the Grey's Anatomy cast has returned to work, sharing pictures on social media of their first days back on set. Luddington revealed to TVLine that several cast members will start the season by shooting exterior scenes in Seattle, and it looks like the group is already enjoying Seattle in the summer. Debbie Allen and Raver posted photos of themselves with co-stars and crew members, while Ellen Pompeo shared an Instagram photo of her Seattle view.
When the series was renewed for Season 15 in April 2018, it became ABC's longest-running drama ever. With the addition of Grey's Anatomy's new season, only seven other dramas in all of TV history have run for a longer amount of time. Given the current TV landscape of quick, constant, and often short-lived content, not many shows will ever reach this milestone again, so it's pretty insane to think about the longevity of Grey's Anatomy. Pompeo, essentially the heart and soul of the series, has also signed on to work through a possible Season 16, so perhaps even more record-breaking is in store for Grey's Anatomy.
Season 15 of Grey's Anatomy premieres on Tuesday, Sept. 27, at 8 p.m. ET on ABC.