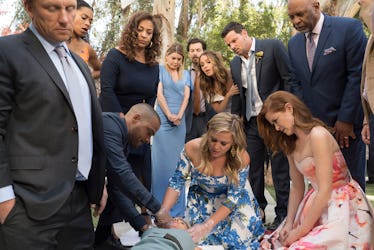 It Looks Like This 'Grey's Anatomy' Character Won't Be Back For Season 15 & I'm A Wreck
ABC
When it came to her love life, Meredith had a bit of a rough time on Season 14 of Grey's Anatomy. While her career hit an exciting high when she became a contender for and eventually won the Harper Avery Foundation Award, Meredith didn't exactly find a new Prince Charming who managed to level up to Derek (TBH, no one ever will). Meredith is clearly thriving on her own, but fans who dug her brief flirtation with patient Nick Marsh are still wondering: Will Nick be in Grey's Anatomy Season 15? Actor Scott Speedman isn't too convinced that the character will be back soon.
Transplant surgeon Nick first appeared in Season 14 when he was at Grey Sloan to pick up a liver for one of his patients. However, fresh from his own kidney transplant, Nick collapsed, prompting Meredith to run some tests on him and keep him company while they waited for the results. He only appeared in the episode "One Day Like This," but Nick's fast-growing rapport with Meredith convinced fans that this hospital visit was foreshadowing their future together.
Ellen Pompeo previously seemed to suggest that a romance between Meredith and Nick was possible, telling E! News that Speedman was "welcome anytime." But when he was asked at the ATX Television Festival's Felicity reunion panel about Nick returning, Speedman wasn't as optimistic. Discussing both his Grey's Anatomy and Animal Kingdom characters, Speedman admitted to the panel audience:
Yeah, I don't know. Probably, to be honest with you, neither [character will come back]. You're going to have to wait a couple years. I'll find something to do... And then Grey's Anatomy: I don't know. Probably not. Sorry.
Never say never, but it looks like Meredith isn't getting a McDreamy 2.0 next season. She and Nick would definitely make a lot of sense, what with both understanding doctors' schedules and having a passion to help others. Plus, he's a surgeon at the Mayo Clinic — don't tell me that he's not on a local calendar of hottest Minnesota doctors.
But then again, Meredith is a busy boss lady who definitely doesn't need a man in order to live her fullest life. On the other hand, I certainly wouldn't complain about Speedman ever popping up on my screen in Grey's Anatomy again. Good thing Felicity is streaming on Hulu right now, huh?
Other possible plots for Season 15 are up in the air, but we have a few clues to look toward for spoilers. Kim Raver, who plays Teddy Altman, will return as a series regular after appearing in several Season 14 episodes for the first time since the character left for a military job in Season 8. Teddy also revealed in the season finale that she was pregnant, meaning that we have a "doctor becomes the patient" storyline to look forward to in the fall. Also, who's the baby daddy?
We also have the possibility of watching Jo and Alex adjust to married life and Bailey embark on a break from her chief position, perhaps hinting that we'll see more of her visiting Ben on Station 19. I'm also definitely up for Jackson experiencing some angst about April's sudden marriage and departure from the hospital. Perhaps we'll even meet some new characters as the first few weeks of the season play out. The possibilities are endless, and Grey's Anatomy writers love using that creative openness to their advantage, whether or not fans like the end result.
Nick's return may not be among the new ideas for Season 15, but the show has plenty to work with for upcoming episodes. However, if we see Meredith unsuccessfully date at any point in the season, I'll still take that as a clue that Nick is on his way to sweep her off her feet.
Season 15 of Grey's Anatomy premieres this fall on ABC.