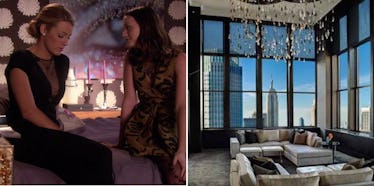 This Bougie 'Gossip Girl' Package Lets You Travel Like Manhattan's Elite & Yes, Please
Listen up, Upper East Siders and loyal fans of Serena van der Woodsen, because I have the latest insider scoop for you. *Puts on best Kristen Bell voice impression.* Yes, you read that headline right, and I've taken over the role of Gossip Girl herself just to give you the details on this sweet deal in New York City. The tip is that the Gossip Girl package at Lotte New York Palace lets you live like one of your favorite characters, at an iconic filming place from the show. For years, you've idolized this world, and now you get to be part of it.
It's always been a dream of yours to live like one of Manhattan's elite. You could do without the wild brunches and Blair's schemes, but you've been prepping your headbands for a moment like this since the pilot episode. You'd love to sit on the steps of the Metropolitan Museum of Art and hand out invitations to a party at your place. Naturally, you'd wear a designer dress, because you have all the connections into the fashion industry and show up in a limo with a personal driver, too. Has anybody seen Chuck Bass lately?
You love all of the characters on the show, but there's a special spot in your heart for Serena van der Woodsen. After all, she's the girl who mysteriously returned to the city one day, sparking a fire of gossip right there in Grand Central Station. Lotte New York Palace is now offering a package just for you, Gossip Girl's biggest fan, and you won't want to miss such a sweet experience.
What is included in the package?
There are two packages you can choose from if you're headed to New York City and looking to live like socialite. So, it's up to you to decide just how much luxury you want to experience in one weekend.
The "Standard Gossip Girl Package" includes two cocktails inspired by the show at the Trouble's Trust, and a welcome box full of macaroons and prosecco gummies. You'll also receive a Gossip Girl postcard set upon arrival, that maps out all of the filming locations within the Lotte Palace, because the hotel was a prime spot for a lot of your favorite episodes. To top it all off, you'll get 25 percent off an On Location GG Tour, which takes you around the city to see the other places where Blair and Serena shared their most intimate secrets. (Meet you on the steps of the Met!)
If that doesn't feel quite elite enough, then you can upgrade to the "Luxurious Gossip Girl Package" when booking either the Champagne or Jewel Suite. This package includes a bottle of Dom Perignon, and truffle grilled cheese and French fries for four people. (Did I mention that those fries are covered in gold flakes? Oh now, that's fancy.) You'll also get four passes for an On Location GG Tour, because no fan should miss out on even more photo ops. All it takes is reserving your room with your besties for a getaway that's fit for girls who are obsessed with Gossip Girl.
What will you see on the On Location GG Tour?
The On Location GG Tour is all about showing you the spots in the city that Blair and Serena made their own throughout the show. Of course, you'll see the steps of the Met and will be able to take pictures in your own headband. Then, you'll pass the Vera Wang boutique where Blair tried on her dreamy wedding dress when she was getting married to the prince (Thank goodness that didn't last.), and even the Empire Hotel.
Possibly the most iconic place you'll visit, though, is Grand Central itself. The whole show started with Serena's wild return to New York, and the rest is history.
Why should you splurge on this experience?
There's no doubt that living like Manhattan's elite is a bit expensive. Honestly, any trip into New York City can be pricey when all is said and done. You could take the train into Grand Central and see all of the sights on your own, per usual. But, don't you think it would be much more of an experience to basically be Serena van der Woodsen? There are so many secrets from Gossip Girl that you probably don't even know yet, and will figure out once you're soaking in the life of a socialite.
Personally, I could roam around the art museums in the city for hours before checking out the best rooftop bars. But, I also love comfy hotel robes and would love to put myself in the expensive shoes of such an iconic character for a weekend. If you and your besties want to relive those scenes from your favorite show and live a lifestyle full of luxury, then it's totally worth splurging on a Gossip Girl package, too. XOXO.