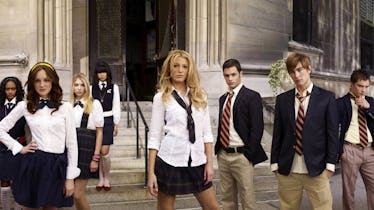 Here's What The 'Gossip Girl' Cast Looked Like During The Show Compared To Now
The CW
It's been more than a decade since teen drama favorite Gossip Girl premiered and immersed viewers into the upper crust world of rich high school students' Manhattan. At the time, the relatively-unknown cast could easily be boiled down to pretty boys and the blonde girl from The Sisterhood of the Traveling Pants. Today, with the cast members grown up, it's a different story. Time flies when you're watching reruns, and photos of the Gossip Girl cast then vs. now will make you feel nostalgic for your Wednesday nights watching The CW.
Like with any cast of a hit show, the actors' post-Gossip Girl careers have been filled with hits and misses. While Blake Lively's popularity has skyrocketed thanks to her eclectic range of movies and her #goals relationship, when was the last time you heard about Taylor Momsen or Chace Crawford? Some of the stars' recent obscurity makes me curious to see a cast reunion, but for now, I'll settle with making myself feel old by comparing how each actor has aged since the beginning of the show.
Blake Lively
Unquestionably the most well-known star at the start of Gossip Girl, Lively's acting career had only begun two years previously in the The Sisterhood of the Traveling Pants. Gossip Girl almost wasn't meant to be for her, as Lively intended to turn down the role of Serena van der Woodsen and go to college instead. In a Vanity Fair retrospective about the show, Lively said:
I said, 'No, I want to go to college. Thank you, though.' Then they said, 'O.K., you can go to Columbia [University] one day a week. After the first year [of the show], it'll quiet down. Your life will go back to normal and you can start going to school. We can't put it in writing, but we promise you can go.' So that's why I said, 'O.K. You know what? I'll do this.'
Things didn't quite work out that way, but everything happens for a reason. Starring in everything from thrillers to historical dramas, Lively has taken box offices by storm since Gossip Girl's wrap. She also happens to run a killer Instagram account often featuring her love of baked goods and fashion. Let's not forget that she's also one half of Hollywood's cutest marriage alongside husband Ryan Reynolds.
Yeah, I guess she did OK.
Leighton Meester
Following a childhood of making her way through network hits as a guest star, Meester was particularly praised for her Gossip Girl portrayal of Blair. As the show has aged, it's safe to say that the character remains the most beloved. I definitely still envy her wardrobe.
Since 2012, Meester has proven that she's a triple threat by having successful forays into the theater and music worlds. She made her Broadway debut in the 2014 revival of Of Mice and Men and released an album, Heartstrings, later that year. Kicking off that busy 2014, Meester also married The O.C. star Adam Brody, causing millennials worldwide to squeal in delight. The couple welcomed a daughter in 2015.
Meester will return to TV this fall in the ABC comedy Single Parents. Blair Waldorf as a frazzled mom? I'm intrigued.
Penn Badgley
When his character Dan Humphrey was revealed as the true Gossip Girl in the final season, Badgley initially seemed to have taken a hiatus from acting. He focused on working with his band MOTHXR, but like Meester, he'll soon be back on our TV screens. Badgley is starring in Lifetime's TV adaptation of Caroline Kepnes' novel You, which debuts on Sept. 9.
Although his real-life relationship with Lively made my life as a teenager, Badgley is also now married, having wed singer Domino Kirke in 2017.
Ed Westwick
Ten-plus years later and Westwick still has that Chuck Bass smirk perfected. Since the end of Gossip Girl, the British star has been in several movies, but he most recently made headlines when several women accused him of sexual assault last year. The three alleged assaults are said to have occurred in 2014.
Elite Daily reached out to Westwick's team for comment but did not hear back by the time of publication. However, Westwick denied the allegations in a statement on Twitter back in November 2017, which has since been deleted. He wrote,
It is disheartening and sad to me that as a result of two unverified and provably untrue social media claims, there are some in this environment who could ever conclude I have had anything to do with such vile and horrific conduct. I have absolutely not, and I am cooperating with the authorities so that they can clear my name as soon as possible.
Chace Crawford
To be fair, I don't think any of the Gossip Girl cast members ever had an "awkward" phase, but Chace Crawford as Nate in the pilot comes the closest to being the ugly duckling of the group. I blame it on the hair. At the time of the show's premiere, he was 21 years old and making his television debut. The role made him a teen heartthrob, and in 2009, People named him "Summer's Hottest Bachelor." Like the majority of the main cast, he remained a leading star on Gossip Girl until the 2012 series finale.
Although he starred in the short-lived ABC drama Blood & Oil in 2015, Crawford has veered toward more independent projects in recent years. He was involved in the films All About Nina and Eloise and has other movies in store.
Taylor Momsen
If you've wondered why Taylor Momsen has seemingly been MIA all these years, it's because she essentially left acting for a music career. Momsen is the lead singer of the band The Pretty Reckless, and I have to admit that it is pretty cool to see Jenny Humphrey rock it out onstage.
After seeing these baby faces, it's safe to say that I have a Netflix marathon in my future. Gossip Girl himself would surely approve, right?