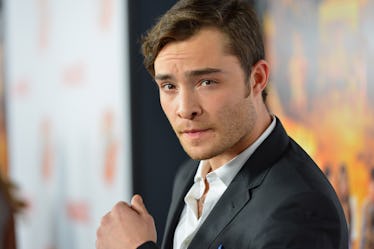 A Third Woman Accuses Ed Westwick Of Sexual Assault: "He Turned His Sights On Me"
Alberto E. Rodriguez/Getty Images Entertainment/Getty Images
After accusations from two women earlier in November, the sexual assault allegations against Ed Westwick are still growing, after a third woman came forward on Nov. 14. In a new allegation, Rachel Eck told BuzzFeed News that the Gossip Girl actor sexually assaulted her at a hotel in 2014. The alleged assault is said to have happened on the same year that two other women, Aurélie Wynn and Kristina Cohen, allege that they were raped by Westwick.
In the report, Eck recounted the night before the Academy Awards when she says her ex boyfriend, a film producer, invited her to hang out with him and Westwick. When she arrived at the Sunset Marquis hotel, it was just the three of them — and, Eck alleged, when she was unable to get any female friends to join them, Westwick "turned his sights on [her]." According to the report, whenever her ex, Kaine Harling, would leave the pair by themselves, Eck said Westwick would "try to kiss me or kind of push me up against the wall."
As the night wore on, Eck alleged that Westwick became even more forward, until he eventually "pulled me onto the bed and aggressively groped me ... I shoved him off as quickly as I could and left," Eck said, according to the story.
A representative for Westwick did not immediately respond to Elite Daily's request for comment. But in a statement on Twitter, the actor denied the previous allegations. He wrote,
It is disheartening and sad to me that as a result of two unverified and provably untrue social media claims, there are some in this environment who could ever conclude I have had anything to do with such vile and horrific conduct. I have absolutely not, and I am cooperating with the authorities so that they can clear my name as soon as possible.
Eck's public accusation is the third against Westwick. Earlier in November, Kristina Cohen, an actor, posted on Facebook that she was dating Harling, the same producer who was Eck's ex, when he brought her to Westwick's house. There, she alleged she fell asleep in a guest room and was "woken up abruptly by Ed on top of me," she wrote. "He held me down and raped me."
Since coming forward with her story, Cohen filed a report with the Los Angeles Police Department. The department confirmed to Buzzfeed that the suspect is Westwick. "There is an active investigation underway," a spokesperson told BuzzFeed News.
Days after Cohen came forward, Aurélie Wynn, an actor, posted more allegations against Westwick on social media. She alleged that while hanging out with him at his apartment, he forced himself on her. "I said no and he pushed me face down and was powerless under his weight," she wrote.
In the latest allegations, Eck, who is a producer, told BuzzFeed News that the alleged interaction "just seemed to be accepted." In light of Cohen and Wynn's allegations, she saw she wasn't the only one.
"I have never felt so uncomfortable in a situation like that in my entire life," Eck told the publication.
In the wake of the first two allegations against Westwick, the BBC announced on Nov. 11 that it would postpone a new show starring the British actor. Westwick was to star in an adaptation of author Agatha Christie's work Ordeal by Innocence. Production on an additional series starring Westwick had also been disrupted, according to a New York Times report.
In a statement, the BBC told the Times that the series would not air "until these matters are resolved."
Since the Times published a report in October detailing allegations that entertainment mogul Harvey Weinstein sexually assaulted dozens of women, the floodgates have opened in Hollywood. (Weinstein, via a spokesperson, has denied any allegations of "non-consensual sex.")
The women who have come forward to allege sexual assault against Westwick join a growing chorus of women who say they've experienced assault, harassment, and misconduct at the hands of directors, producers, and of course, actors.
And with the continuing claims, it doesn't seem like the floodgates are closing anytime soon.