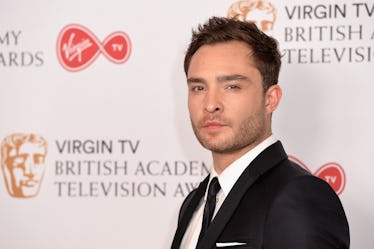 'Gossip Girl' Star Ed Westwick Has Been Accused Of Raping Actress Kristina Cohen
Jeff Spicer/Getty Images Entertainment/Getty Images
A Gossip Girl star has been accused of sexual assault. Ed Westwick was accused of raping Kristina Cohen. The actress took to Facebook to tell her story on Monday, Nov. 6. The incident allegedly took place three years ago. Elite Daily has reached out to Westwick's team about the accusation and is awaiting comment.
UPDATE: Ed Westwick has responded to Cohen's accusation in an Instagram post. The post reads, "I do not know this woman. I have never forced myself in any manner, on any woman. I certainly have never committed rape."
EARLIER: Cohen detailed her account of events in a lengthy post that claims an unnamed "producer" she was dating at the time brought her to Westwick's house. She claims that she had never met Westwick before and wanted to leave when he suggested "we should all f*ck." She then alleges he suggested she take a nap. Her Facebook post reads:
So I went and laid down in the guest room where I eventually fell asleep, I was woken up abruptly by Ed on top of me, his fingers entering my body. I told him to stop, but he was strong. I fought him off as hard as I could but he grabbed my face in his hands, shaking me, telling me he wanted to f*ck me. I was paralyzed, terrified. I couldn't speak, I could no longer move. He held me down and raped me.
It was a nightmare, and the days following weren't any better.
The producer put the blame on me, telling me I was an active participant. Telling me that I can't say anything because Ed will have people come after me, destroy me, and that I could forget about an acting career. Saying there's no way I can go around saying Ed "raped" me and that I don't want to be "that girl."
And for the longest time, I believed him. I didn't want to be "that girl".
Cohen explained in the post that she's gone "back and forth" about coming forward with her sexual assault accusation, unsure if she would be heard. "I hope my coming forward will help others to know that they are not alone, that they are not to blame, and it is not their fault. Just as the other women and men coming forward have helped me to realize the same," she wrote.
Cohen is a 27-year-old is an actress and writer who has had roles in a variety of film and television projects, including Ladies Like Us, Californication, and Greek. Westwick currently stars in the BBC Two series White Gold, but he is best known for playing Chuck Bass on The CW's Gossip Girl for six seasons.
Cohen's decision to go public with her claims comes in the wake of allegations against movie mogul Harvey Weinstein, who has been accused of sexual assault and sexual harassment by dozens of women. Ashley Judd, Asia Argento, Rose McGowan, and Annabella Sciorra are among the actresses who have spoken out about his alleged sexual misconduct over the past month.
Weinstein responded to the allegations and the Oct. 5 New York Times article about his misconduct in a statement that read, "I appreciate the way I've behaved with colleagues in the past has caused a lot of pain, and I sincerely apologize for it. Though I'm trying to do better, I know I have a long way to go."
Weinstein's spokesperson, Sallie Hofmeister, also provided a statement to Elite Daily regarding the previous allegations:
Any allegations of non-consensual sex are unequivocally denied by Mr. Weinstein. Mr. Weinstein has further confirmed that there were never any acts of retaliation against any women for refusing his advances. Mr. Weinstein obviously can't speak to anonymous allegations, but with respect to any women who have made allegations on the record, Mr. Weinstein believes that all of these relationships were consensual. Mr. Weinstein has begun counseling, has listened to the community and is pursuing a better path. Mr. Weinstein is hoping that, if he makes enough progress, he will be given a second chance.
Kristina Cohen concluded in her post about Westwick, writing, "I hope that my stories and the stories of others help to reset and realign the toxic environments and power imbalances that have created these monsters."
You can read Kristina's full post on Facebook.