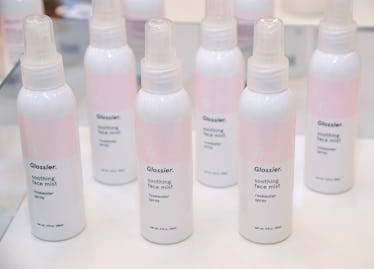 Glossier's Black Friday Sales Are What Millennial Dreams Are Made Of
John Sciulli/Getty Images Entertainment/Getty Images
If there is one beauty brand that has me hook, line, and sinker, it's Glossier. I'm pretty sure 99 percent of all other Gen Y women who have browsed the website for two seconds (or tried its Balm Dotcom) would agree. Well, my friends, Glossier's 2017 Black Friday Sales are here, which in itself is a very big deal! The fuss-free beauty brand never, I repeat never, offers sales (it's already reasonably priced), so you should take extreme advantage of this one while it lasts.
Starting Nov. 24, Glossier will be offering a rare 20 percent off on all of its products through Nov. 27. That is an entire four days, or a full week if you consider Friday part of the weekend like I do. To further sweeten the pot, shipping will be completely free. (Pro tip: You will probably want to hit the sale early, because I am about to buy them dry.)
In case you don't understand why I and so many others are obsessed with Glossier, let me give you a little brand overview. It was started by Emily Weiss, a former guest star of The Hills, who founded a wildly popular beauty website that later grew into a product line. In the beginning, Glossier launched with a few parred-down skincare essentials. Soon after, the brand expanded its offerings to include brow gel, concealer, and lipsticks (hence its tagline, "Skin first. Makeup second."). Now, it's a full-fledged beauty brand with a recently launched fragrance and body cream, and it's only growing.
To me, Glossier is super special for two reasons: One, its marketing f*cking rules. Everything from its website to campaigns and product packaging is minimalist chic. Millennial pink is its color, and when you make a purchase, you receive a plastic bag made of pink bubble wrap to stash your goodies in. The company also includes a sheet of branded stickers with every order. Along with the brand name, the stickers consist of an alien face, a rainbow, a heart, and more. I have these stickers plastered all over my computer; they are to today what Lisa Frank was to the early aughts.
The other reason I love Glossier so much is that it is all about body positivity, inclusion, self-love, and diversity. The campaign for the Body Hero product line says it all: Five women of all shapes, sizes, backgrounds, and professions pose nude, showcasing their glowing skin and stunning bodies. It's inspiring and beautiful AF.
Needless to say, Glossier is a brand worth spending your money on. While I shamelessly love all of its products, these are the ones I'll be filling my virtual cart with come Thanksgiving Day.
Fresh Pow!
This miracle-in-a jar cuts shine, blurs pores, and sets makeup. I just ran out of the powder I've been using... serendipitous, non?
Scent-ual Healing
Glossier's first fragrance launched this November, so I haven't had the chance to try it out. It boasts heavy base notes of ambrette, ambrox, and musk, which are supposed to ensure the fragrance won't change as it settles into your skin over time.
Boy Oh Boy
If I could only bring one makeup item with me to a deserted island, this would be at the top of my list. I have super blonde eyebrows that both have scars through them (that's a story for another time) and this brow gel works wonders to fill them in and hold them in place.
Make Me Blush
I mean, is Cloud Paint not the coolest name ever for blush, or what? It's a super light gel-cream blush and comes in four shades: Beam, Puff, Haze, Dusk. The hues range from flirty to outright glam. Why not snag them all?
Dynamic Duo
This duo of Glossier's Daily Oil Wash and Daily Perfecting Cream leave skin uber moisturized and glowy. Plus, they look really good on a shower ledge, if you're into a bathroom Instagram.
Lip Service
I love all of Glossier's lipsticks; they go on super easily, melt right into your pout, and are meant to be a little blurred at the edges. "Crush" is my personal favorite color (it gives my lips a subtle berry stain), but they are honestly all super wearable.
Three Little Serums
Consider this trio the Kate, Naomi, and Linda of serums. There's Super Glow, which revives dull skin; Super Pure, which helps with stress breakouts; and Super Bounce, which will reinvigorate dry skin (hellooooo hangover!). I'm hard on my skin... and well, I need 'em all.