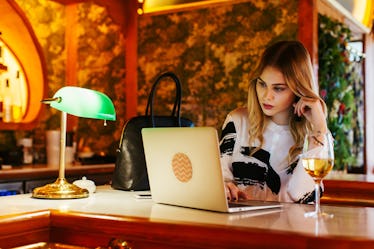 The Girl Who Always Orders Wine At The Bar Can Relate To These 7 Things
When your drink at the bar isn't topped with a Marciano cherry, but the taste of succulent grapes, you're likely the regular girl ordering wine at the bar. It's not as uncommon as you think, even though you're usually the only one reaching for a glass with a stem. For the girl who drinks wine, you're likely already used to the bartender reaching to the way back of the fridge for your wine bottle.
This is one of many things that happens when you'd rather sip on Merlot than a mai tai or lemon drop. I mean, if the bar didn't want you to have this delicious euphoria in a glass, then why would it be on the menu? You have no issue ordering those reds and whites because no bottle of wine deserves to be neglected in your book, no matter the location.
Why are you drinking wine? That is such a loaded question and if you weren't already cruising toward a Chardonnay wonderland, you might actually consider answering it with a straight face. Who cares if you're that girl who orders wine at the bar. Raise your glasses with other winos and nod as you totally relate to these struggles of ordering wine at the bar counter.