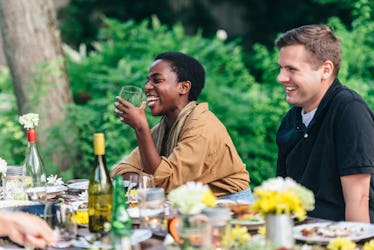 8 Dinner Party Struggles That Girls Who Love Wine Know To Be True
If your alarm is used to going off when it's wine o'clock and you dream in shades of Merlot and lucidly adore the crisp taste of rosé, you're totally a wine girl. The exciting world of wine is heaven-sent once you turn 21. Wine is appropriate in almost every casual or elite gathering. In other words, the sip doesn't discriminate. There's one toughie, though that can be trying if you're a wine girl for real: dinner party struggles.
Dinner parties sound classy AF and they very well may be. Sometimes, it can just be a gathering of friends eating a home cooked meal, too. Either way, when you're so into wine, the entire outing can have you super confused on how to approach the situation.
You're all adults, but unlike wine, those potentially awkward moments don't get any better with age. You don't want to goof and bring a Niagara to a predominantly red wine-loving party or anything. Wine may be simple when you're gracefully enjoying it on your couch, but once a whole gathering is involved, your inner wine goddess is a little shook. There, there, wino. It will all work out in the end, but for now, you know these struggles to be all too true. *gulp*