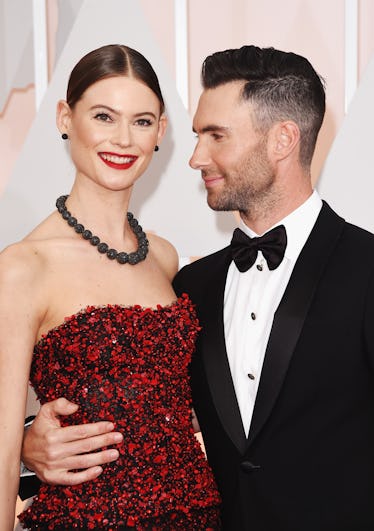 Behati Prinsloo Posted The First Photo Of Her New Baby Girl & She's So, So Cute
Jason Merritt/Getty Images Entertainment/Getty Images
Behati Prinsloo and Adam Levine are now parents of two! The couple confirmed the birth of their second daughter on Friday, Feb. 16, via Levine's rep. The announcement also revealed the baby's name, Gio Grace Levine, and fans are torn about how they feel about it. Personally, I think it's cute AF, as is the name of her big sister, Dusty Rose. Levine and Prinsloo didn't release any photos of the baby with their announcement, but the first photo of Gio Levine has arrived, and she is such a little nugget.
Behati Prinsloo posted the first photo of her baby girl on Instagram on Wednesday, Feb. 21. It's a shot of the baby's feet, so bummer we don't get to see what she looks like just yet, but goddamn if they aren't the cutest little feet ever. Prinsloo captioned the sweet photo, "Gio Grace Levine 2/15/18. She's got her dads toes," revealing the baby was born the day after Valentine's Day. The couple didn't reveal they were expecting their second child until September 2017 when Prinsloo was already a ways along. She posted a mirror selfie of her in a bikini and showing off her baby bump with the caption, "ROUND 2....." In an appearance on The Ellen DeGeneres Show on Nov. 7, 2017, Levine revealed the gender of the baby and talked about his and Prinsloo's desire to have a bunch of kids. "I want a lot [of kids]," he said. "I thrive in chaos. [Prinsloo] was an only child, so she wants like 100 babies. I don't know if I can do that. That's a lot of babies."
Behati Prinsloo posted this sweet photo of baby Gio Grace Levine's feet on Instagram on Feb. 21.
Look at those tiny, little feet!! I cannot. It's so adorable.
The most recent thing Levine has posted on Instagram is a photo of his wife eating some Valentine's Day candy.
He posted the photo, captioned "My maniac," on Feb. 15, which we now know is the day baby Gio was born! So, maybe this photo was posted in honor of the fact that Prinsloo was in labor, or maybe it was posted before she went into labor and then they both were like, "OH CRAP, THE BABY'S COMING. BETTER POST ON INSTA."
In his interview with DeGeneres, Levine said he wants a bunch of babies because he "thrives in chaos." Honestly, same.
He also praised his wife for handling pregnancy so well, noting that she was rocking it so much, they barely even noticed when she was about to start her third trimester.
The meaning of the name Gio, according to BabyCenter, is "farmer." It's a very Italian name. Another variation in spelling is Geo, which means "earth" or "of the earth," according to Dictionary.com. So clearly, no matter how you spell this name, it's going to have a very earthy vibe about it.
Prinsloo posted a handful of amazing pregnancy photos while she was pregnant with baby Gio.
She posted the above photo of her baby bump covered in stars on Jan. 26 with the caption, "Two babies in two years, I'm excited to see my toes again..."
She had previously posted a similar photo of her baby bump covered in stars on Nov. 23, 2017.
The caption was super simple and just read, "#2." As for baby Dusty Rose, who celebrated her first birthday on Sept. 21, she's still adorable as ever.
I mean, just look at this video Prinsloo posted on Instagram. Are we kidding?? What a nugget.
In his interview with DeGeneres, Levine said that Dusty Rose is so different from her parents (in a good way, of course). Levine brought Dusty with him to the interview that day. She stayed backstage, of course, but DeGeneres made note in the interview that she's a super quiet baby. DeGeneres said, "She's like a little zen baby. She's so quiet!" Levine responded, "Which is funny, 'cause her parents... we're like maniacs." There's that maniac line again! Now, all we have left to do is wait to see the first photos of Dusty Rose and Gio Grace together.