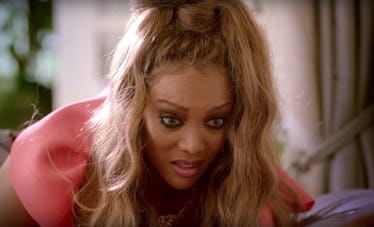 The First 'Life-Size 2' Trailer Is Here To Bring Eve Back To Life... Again
Freeform
Your special friend is shining bright once again. At long last, fans finally have their first look at Life-Size 2, with a first-look teaser that shows the iconic Eve doll magically transforming into Tyra Banks. Yep — the first Life-Size 2 trailer is here, and the sequel already looks just as magical as the original Disney classic.
The new movie, which is slated to premiere on Freeform in a little over a month, will be a similar story as the 2000 ABC movie Life-Size, but updated. The original film starred a young Lindsay Lohan as middle schooler Casey Stuart, a tomboy whose mother died a couple years ago. In her grief, Casey purchases a book of magic and attempts a resurrection spell to bring her mother back, but the spell misfires and instead brings her Eve doll to life. The newly human Eve (Tyra Banks) then helps Casey and her father reconnect and move forward from their trauma before transforming back into a doll at the end of the movie.
The first teaser for Life-Size 2 shows that the spell to bring Eve to life is still the same as it was in the first movie. Instead of Lindsay Lohan, this time, Francia Raisa is the one chanting the movie's iconic resurrection spell, as the new teaser shows her character Grace chanting "zomba, tarka, ishtu, nebarim" from the Book of the Dead. And of course, that summons Eve, as Tyra Banks appears with her famous line, "It's me, Eve, and I'm your special friend."
Check out the first promo teaser for Life-Size 2 below:
Unlike the original movie, Life-Size 2 will follow a woman in her mid-20s going through a low point in her career. Francia Raisa stars as Grace, the 25-year-old CEO of a toy company. Unfortunately, Grace feels that she is in over her head in this position of power, and her party girl ways are causing the company's stock to plummet. That is where Eve comes in to help Grace realize her true potential.
Freeform has also revealed several other members of the Life-Size 2 cast: Gavin Stenhouse (Allegiance) will play Grace's love interest Calum, Shanica Knowles (Hannah Montana) and Hank Chen (Home Again) will play Grace's best friends Tahlia and Brendan, and Alison Fernandez (Logan) will play Grace's young next-door neighbor.
But of course, the big questions among fans is whether original Life-Size star Lindsay Lohan will appear in the sequel. Tyra Banks recently told Entertainment Weekly that Lohan's upcoming MTV reality show Lohan Beach House made her unavailable to film major scenes for the movie, but there will at least be a nod to Lohan in Life-Size 2, if nothing else:
There's something beautiful we do with Lindsay in this movie that'll speak to die-hard fans. I can't say how, but you will see something!
Life-Size 2 will premiere as a part of Freeform's "25 Days of Christmas" celebration next month. Fans can get excited for the movie to air on Freeform on Sunday, Dec. 2.