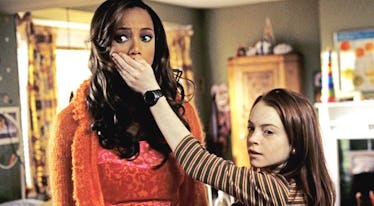 Tyra Banks Announced Her 'Life Size 2' Co-Star & It's Not Lindsay Lohan
Disney
It's time to shine bright and shine far again! After years of teasing and promising a sequel to Disney's cult favorite TV movie Life-Size, Tyra Banks has finally confirmed a release date for Life-Size 2 later this year. Except, there is going to be one big change — instead of co-starring with Lindsay Lohan like she did in the 2000 original, Tyra Banks has a new co-star in the upcoming movie. Francia Raisa is starring in Life-Size 2 with Tyra Banks, which sounds awesome... but I can't help but wonder, does that mean Lindsay Lohan is not going to be involved in the new sequel at all? Let's go over everything we know.
On Monday, July 9, Tyra Banks broke the news that Life-Size 2 is officially in production right now, and that it is set to premiere this December on Freeform. Banks also revealed that her new co-star for the film will be Francia Raisa, an actress best known for starring in Freeform's teen sitcoms, such as Grown-ish and The Secret Life of the American Teenager. A press release from Freeform revealed that Raisa's character in the new movie will be Grace Manning, a confident young woman who takes over as the CEO of her mother's toy company, which is best known for manufacturing Eve dolls. However, Grace soon finds herself in over her head in her new position, and her wild child ways begin to take a toll on the company's stock. Sounds like she could use some guidance from a certain living doll, hmm?
Tyra Banks announced the casting news with a photo of herself and Francia Raisa on social media. Check it out below:
The Freeform press release also announced four other actors joining Life-Size 2. Gavin Stenhouse (Allegiance) will play Grace's love interest Calum, Shanica Knowles (Hannah Montana) and Hank Chen (Home Again) will play Grace's best friends Tahlia and Brendan, and Alison Fernandez (Logan) will play Grace's young next-door neighbor.
Okay, so that's everything we know about the plot and new cast of Life-Size 2, but let's get to the question that we are all asking: What about Lindsay Lohan? Over 18 years ago, Life-Size served as Lohan's second major motion picture ever (coming two years after her big break in The Parent Trap), and helped her transition to her iconic teen queen era, with movies like Mean Girls and Freaky Friday coming out a couple years later.
Lohan played the football-loving Casey Stuart in the original Life-Size, a preteen girl who casts a spell in an attempt to revive her dead mother, only to accidentally bring an Eve doll to life instead. Clearly, this upcoming sequel is focusing on an entirely new plot, with a cast of 20-something young professionals rather than a young girl and her single father, but there could still be room for Casey Stuart to reunite with Eve.
Back in April, Tyra Banks confirmed that Lindsay Lohan will be in Life-Size 2, although she did not specify what her role would be. From the looks of the new casting announcement, it seems like Lohan would only pop up in a cameo appearance. Then again, last year, Banks stated that she specifically did not want Lohan back for a cameo, but rather for a meatier role, which should give fans some hope. Judging from the newly-announced plot details and casting, perhaps Lohan's character of Casey Stuart grew up to also work at the toy company that Grace Manning is CEO of, or to make things more dramatic, maybe she is the CEO of a rival company. We will just have to wait until December to find out!