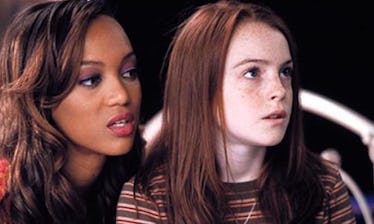 Tyra Banks Says Lindsay Lohan Is Returning For 'Life-Size 2' & I'm SCREAMING
Few Disney Channel Original Movies were as amazing as Life-Size, the fantasy-comedy starring Lindsay Lohan and Tyra Banks. A movie about a teenage girl who accidentally brings her doll to life? Pure cinematic gold. Banks has been open about wanting to make a sequel to the hit 2000 movie, and now, it seems like all our wishes are coming true: according to Banks, Lindsay Lohan will be in Life-Size 2. Let's all sing a round of "Be A Star" to celebrate!
During an interview with Steve Harvey, Banks addressed the number one question surrounding the sequel: will Lohan return? And if so, will she reprise her role as then-tomboy Casey, now a full-blown adult? After a dramatic pause — no one does drama like Tyra — the model/actress broke the good news:
Lindsay Lohan will be in Life-Size 2, yes! Yes, I really, really want her to. We're talking about it right now and she has got to come back! She has got to come back.
OMG. A Life-Size sequel would be amazing on its own, but with Lohan added to the mix, it's a must-see. Banks is set to reprise her role as Eve, the doll Casey brings to life, and she's also signed on as an executive producer. Once Lohan crosses the T's and dots the I's on the paperwork, I have to imagine that she'll want in on the producing end of the deal, too, because we all know that Life-Size 2 is going to make so much money.
Banks has been working on getting Life-Size 2 to fans for years, but Lohan hasn't been as committed to making a sequel. In recent years, Lohan has adopted an unnatural accent, gotten interested in foreign affairs, and generally avoided Hollywood altogether. So, naturally, when Banks reached out to her about Life-Size 2, she had to do it a little unconventionally — as in, sliding into her DMs unconventionally:
Lindsay slides into those DMs. Mhmm, I be seeing you girl. I slid into hers first, to be honest. 'Cause I was like, 'Yo, I'm producing Life-Size 2 are you down?' And she was like, 'I'm down to the down.' Like, she's so down!
If Tyra Banks slid into my DMs about literally anything, I would also be "down to the down." Life-Size 2 is set to air during the 2018 holiday season on Freeform, and Banks says that the team is currently finishing up the script before production begins. In April, she told Buzzfeed that she wants Lohan's role to be much larger than just a quick cameo:
We're working on the script now and I'm telling the writer I don't want her to just have a cameo. I feel like she was just as important to Life-Size 1 as I was, so I want her to have a role, at least three or four scenes. I think she would play herself grown up — like, Casey in Life-Size grown up. So, we'll see!
Um, if we get all excited about Life-Size 2 and then Lohan makes a two-second cameo, I will scream. How can you make a sequel to Life-Size with barely any Casey? Three or four scenes sounds amazing, but why not include her in the whole film? I would love to Lohan to make an acting career comeback, and Life-Size 2 could be the perfect way to do that.
As for the actual content of Life-Size 2, don't expect as much family-friendly fun as the original Disney Channel movie. According to Deadline, in the sequel, Eve has "magically awoken to help a young woman learn to live and love again," and because it's Freeform, there will no doubt be some sexy scenes. "Along the way, Eve herself will experience the ups and downs of real life in a fun, edgy, modern Christmas movie," the description reads. If you think that sounds a little more daring than the 2000 movie, you're not alone. Banks told Buzzfeed that parents who grew up watching Life-Size should know that the sequel will definitely be more adult:
If you were a little girl or little boy like, "Oh my God, I love Eve. She's so cute," and you have kids now, you might need to use a little parent discretion on whether they should be watching Life-Size 2 or not.
As someone without kids, this sounds amazing (and I have to imagine it still sounds amazing even if you do have kids). A more adult, edgier, holiday-themed Life-Size sequel? Sign me up for that.
Life-Size 2 (aka Lindsay Lohan's return) airs in December 2018 on Freeform. Let the countdown begin!