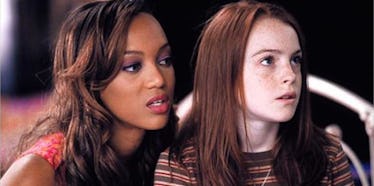 Lindsay Lohan Might Actually Be In 'Life Size 2' And The Internet Is Psyched
Disney/YouTube
This year has been a good year in TV and film if you ask me. Of course, that's due in part to the many new shows and movies we've been blessed with (*cough cough* This Is Us, Wonder Woman, GLOW), but it also has a lot to do with the many reboots and sequels that have been announced. Perhaps nothing is more exciting, though, than the fact Tyra Banks and Lindsay Lohan's legendary movie Life-Size is getting a sequel. Oh wait... I lied, there is *one* thing that's more exciting: We might actually get to see Lindsay Lohan in Life-Size 2.
That's right, until now, it's been uncertain whether or not LiLo would be returning for a sequel to the classic story about a doll come to life, but we do know that Tyra has invited Lindsay back to be a part of the cast in the past, and it looks like she was very serious. According to Tyra (an executive producer on the film), Lindsay returning for Life-Size 2 a major possibility. Entertainment Weekly caught up with Tyra last week at the Television Critics' Association press tour in Beverly Hills where they got to talk with the America's Next Top Model host about plans for the follow-up. Banks revealed that she and Lohan have been in talks to shake our lives and co-star as Eve and Casey again. She told EW,
Lindsay and I have been slipping into each other's DMs a lot lately. I think she's very interested in returning. It's about figuring out what that role is. I'd like it to be kind of robust. I'm not looking for a Lindsay cameo, I'm looking for her to have something pretty meaty in Life-Size 2, so we shall see what our writer comes up with.
OK, a "robust" role for a red-headed goddess? YES, PLEASE. Lindsay hasn't starred in a feature film in almost 4 years, and it's a travesty. Tyra's not "looking for a Lindsay cameo," and, TBQH, neither are we. We want to see the queen in full force again where she belongs, tearing up our TV screens. And it looks like we might just get our wish.
A sequel to the iconic Disney Channel Original Movie was announced way back in December of 2015 (I remember this vividly because somewhere out there the 9-year-old me shrieked so loudly that I actually heard it in real time), and we as a people have been awaiting more details on the production ever since. Sadly for us, we still have to wait a year and a half to see Tyra shine bright and far as Eve again (Life Size 2 is set to be released in December 2018), but the news that LiLo might be reprising her role as Casey is enough to hold us over for now... I guess. For now, I'll just leave you with this: