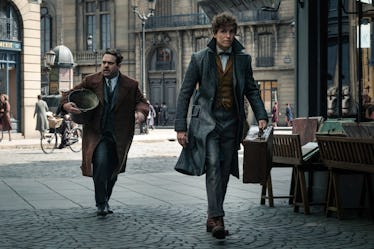 The First 'Fantastic Beasts: Crimes Of Grindelwald' Trailer Is Here & It's Full Of Magic
Warner Brothers
It's that time of year again. The clocks have jumped forward. The sun is setting later. Spring, with the exception of a stray nor'easter or two, is on the way. Springtime is magic, which is why it's the perfect time of year for Warner Brothers to bring us the Fantastic Beasts 2 trailer for the upcoming movie, Fantastic Beasts 2: The Curse of Grindelwald, later this year.
This is a magic time for the Wizarding World in general. Over the weekend, the home of magic on the web, Pottermore, unveiled their new design. It includes a wand-centric logo that encompasses the whole of the Wizarding World to date, including Newt Scamander and the Goldstein sisters, as well as the original Golden Trio of Harry Potter, Hermione Granger, and Ronald Weasley.
Then later this week, starting on Friday, March 16, 2018, the first previews for Harry Potter and the Cursed Child will begin playing on Broadway at the Lyric Theater, ahead of the opening night of April 22, 2018. The two-part five-hour live show extravaganza set records at the Olivier Awards in London when it opened in 2016, and Potterheads and theaters nerds alike are expecting the U.S. version (with most of the original London cast) to do the same.
And now, as part of this Potteriffic celebration, we have the brand new trailer for Fantastic Beasts 2.
Fantastic Beasts 2: The Curse of Grindelwald picks up about a year after the events of Fantastic Beasts and Where To Find Them. It is now 1927, and Scamander's seminal text, which shares the name of the first movie, has come out. It is an instant-classic best-seller across the Wizarding World in England. Scamander has been sent out by his publisher on a book tour of Europe, in order to push sales in other countries.
But Scamander's journey to Paris, France to autograph copies and bask in his sudden fame isn't all it seems to be. His old friend Albus Dumbledore, the Transfiguration teacher at Hogwarts, has been keeping an eye on the continent, and he sees signs of something very dangerous. Gellert Grindelwald, his one time friend, seems to be making good on his vow to rid the world of muggles, non–magiques, and no-majs. Newt is in the perfect position as a traveling author to do a little spying on his behalf to see just how far Grindelwald has gotten in his quest.
Here's the full synopsis:
At the end of the first film, the powerful Dark wizard Gellert Grindelwald (Depp) was captured by MACUSA (Magical Congress of the United States of America), with the help of Newt Scamander (Redmayne). But, making good on his threat, Grindelwald escaped custody and has set about gathering followers, most unsuspecting of his true agenda: to raise pure-blood wizards up to rule over all non-magical beings. In an effort to thwart Grindelwald's plans, Albus Dumbledore (Law) enlists his former student Newt Scamander, who agrees to help, unaware of the dangers that lie ahead. Lines are drawn as love and loyalty are tested, even among the truest friends and family, in an increasingly divided wizarding world.
Eddie Redmayne returns as Newt Scamander, along with Katherine Waterson as Tina Goldstein, Alison Sudol as her sister Queenie, and Dan Fogler as Jacob Kowalski. Additionally, Ezra Miller will return as Credence Barebone, and Johnny Depp remains as Gellert Grindelwald.
Jude Law will take over the role of Dumbledore, last played by Michael Gambon. He is now the third actor to inhabit the role since 2000. Other newcomers include Callum Turner as Newt's brother Theseus, Zoë Kravitz as his fiancée, Leta Lestrange, and Claudia Kim, the blood-cursed "Maledictus."
Fantastic Beasts 2: The Curse of Grindelwald arrives in theaters on Nov. 16, 2018.