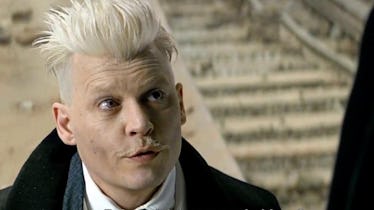 J.K. Rowling Has Finally Spoken Out About Casting Johnny Depp In 'Fantastic Beasts'
Warner Bros.
There has been a ton of public backlash against the Harry Potter franchise's decision to continue working with Johnny Depp in the upcoming Fantastic Beasts: The Crimes of Grindelwald after he was accused of domestic abuse by ex-wife Amber Heard. Now, Harry Potter author J.K. Rowling has finally spoken out on the issue, and her statement may be surprising to some fans. Rowling is defending the franchise's decision to continue working with Johnny Depp, even adding that she's not only comfortable with it, but "genuinely happy" to continue working with the actor. Read an excerpt of J.K. Rowling's full statement defending Johnny Depp's casting below:
Harry Potter fans had legitimate questions and concerns about our choice to continue with Johnny Depp in the role. As David Yates, long-time Potter director, has already said, we naturally considered the possibility of recasting. I understand why some have been confused and angry about why that didn't happen ... Based on our understanding of the circumstances, the filmmakers and I are not only comfortable sticking with our original casting, but genuinely happy to have Johnny playing a major character in the movies ... I accept that there will be those who are not satisfied with our choice of actor in the title role. However, conscience isn't governable by committee. Within the fictional world and outside it, we all have to do what we believe to be the right thing.
J.K. Rowling's statement comes a week after Fantastic Beasts director David Yates also defended the decision to continue working with Johnny Depp in the incredibly popular, magical franchise. After the cast photo and title of Fantastic Beasts: The Crimes of Grindelwald was revealed (putting Depp's character at the center of the upcoming sequel), Yates told Entertainment Weekly that he sees Depp as being "full of decency and kindness" and dismissed Amber Heard's accusations of domestic violence by saying they don't "tally up with the kind of human being [he's] been working with."
Towards the end of her one-year marriage to Johnny Depp in 2016, Amber Heard accused Depp of being verbally and physically abusive to her. Heard filed for divorce in May 2016, and applied for a restraining order citing Depp's abusive behavior. When Depp's lawyers denied the abuse, Heard's team provided photographic and video proof of Depp's abuse. They finally reached a settlement towards the end of 2016, which involved Heard receiving $7 million.
The abuse allegations and divorce from Heard may have hurt Johnny Depp's wallet (he's reportedly in the midst of a nasty financial crisis), but it has yet to significantly affect his movie career. He has already helmed two major motion pictures this year — Pirates of the Caribbean: Dead Men Tell No Tales and Murder on the Orient Express — and now his tiny part of the dark wizard Grindelwald in last year's Fantastic Beasts and Where to Find Them is being blown up into a title role for next year's sequel.
In the current, post-Weinstein climate of finally calling powerful men out and holding them responsible for their abusive crimes, many Harry Potter fans were hoping that the wave in Hollywood would crash on Johnny Depp next. Though Depp hasn't been accused of sexual abuse like the bulk of the high-profile men to be exiled from show business recently (Harvey Weinstein, Louis CK, Kevin Spacey, Danny Masterson, to just name a few), the accusations of physical and emotional abuse levied against him should be taken just as seriously. That is why J.K. Rowling's defense of Depp is so alarming. The author is known for championing progressive social causes, and spoke out against Weinstein after his scandal broke, but now writes she is happy to work with Depp.
Rowling's statement rubbed many of her fans the wrong way. Check out some of the responses below:
Fantastic Beasts: The Crimes of Grindelwald will hit theaters on Nov. 16, 2018.