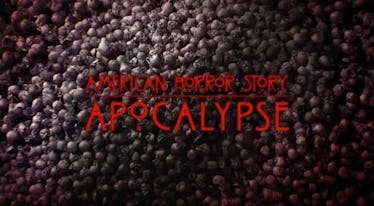 The First 'American Horror Story: Apocalypse' Trailer Is Disturbing In All The Right Ways
FX
Our first look at American Horror Story: Apocalypse is finally here, and it is even creepier and more disturbing than anyone could have predicted. FX just released the first teaser for American Horror Story: Apocalypse, and the eerie new footage will get you so pumped for what looks like American Horror Story's darkest, most sinister season yet.
The newly released teaser trailer unfortunately does not include a look at any of the new season's cast — instead, the 45-second video jumps between a number of disturbing images, providing a context for the apocalypse at the center of Season 8. The teaser begins with a fetus inside an hourglass connected to a black heart, which then catches fire and erupts in a nuclear explosion. At other parts in the teaser, we see a person in a gas mask melt into black liquid, crows flying through a pentagram-shaped window, and a black scorpion stinging a white scorpion. The teaser ends with another hourglass, as a demonic hand flips the glass and skulls rain down from within.
Of course, the teaser does not really reveal any specific details about the plot of AHS: Apocalypse, but it does seem like a nuclear holocaust will be at the center of the season. The baby and the black, demonic hand in the trailer also echo the promo images that have already been released, and likely refer to the return of Michael Langdon, the antichrist born at the end of Murder House.
Check out the first teaser for American Horror Story: Apocalypse below:
This teaser may also include some hints as to how the Murder House and Coven characters will be intwined this season. A while back, Ryan Murphy confirmed that Season 8 would be a crossover between Murder House and Coven, and several characters from those seasons have been confirmed to return in Apocalypse since then: Jessica Lange will return as Murder House's Constance Langdon, newcomer Cody Fern will play an adult version of Murder House's Michael Langdon, Emma Roberts will reprise her Coven role of Madison Montgomery, and Sarah Paulson will pull triple duty by playing her Murder House character Billie Dean Howard, her Coven character Cordelia Goode, as well as a new character named Venable.
But how exactly will the Murder House and Coven characters be interacting? The teaser seems to be emphasizing the importance of Michael Langdon in bringing about the apocalypse, and it also shows a particularly witchy scene with the crows flying through the pentagram. Perhaps the coven is instrumental in Michael Langdon realizing his full power as the antichrist.
We will just have to wait until American Horror Story releases a full trailer or more information about Apocalypse to figure out more details about the upcoming season's plot. Thankfully, fans do not have to wait much longer for the new season — American Horror Story: Apocalypse will premiere on FX in just over a month's time on Sept. 12, 2018. In even more good news, FX just renewed American Horror Story through Season 10, meaning fans still have two more spooky season of AHS to look forward to after Apocalypse.