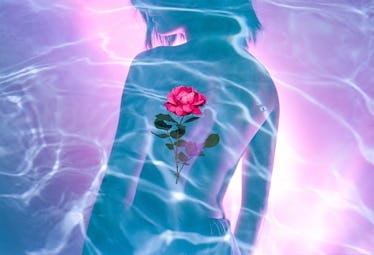 The February Solar Eclipse In Aquarius Is Going To Take Your Love Life On A Ride
Think back to how you felt during the lunar eclipse on Jan. 31 a couple of weeks ago. Did a major period of your life come to an end? Was your world turned upside down by strange inconveniences? Did you suffer a loss so significant that it's still too painful to even mention? If any of this sounds familiar, then brace yourselves for what's to come on the February solar eclipse in Aquarius. All your adversity might soon make a lot of sense.
While lunar eclipses tend to invoke harsh endings, solar eclipses are known for turning the page, allowing you the chance for a new beginning. These beginnings are earth-shattering and sometimes, they're uncomfortable, but there's always a bright light illuminating your way through the darkness. This solar eclipse is in Aquarius, the water-bearing air sign of revolution, fighting for what you believe in, and unapologetic individuality. The effects of which are balanced out by other planetary positions, namely Mars in Sagittarius and Venus in Pisces. With a transformative partial solar eclipse in Aquarius comes internal change within us all — a desire to make a difference, to become the best version of ourselves. This newly lit fire in your soul is tempered by Venus in the dreamy sign of Pisces and enhanced by Mars making moves in the audacious sign of Sagittarius.
Exist Outside Your Comfort Zone
The solar eclipse in Aquarius will drag your most authentic and eccentric qualities out of you like its mining for rare gems. Use these gems. Don't fear the way they glimmer and glisten in ways you're not used to. Embrace how they ask you to reconsider your identity, to rethink what you're capable of. You might just discover a hidden talent you never knew you had or maybe, you'll unveil a new cause to dedicate yourself to. Perhaps you'll just decide you want to dye your hair purple.
Whatever it is, Aquarius is not known for following the rules or fitting in with the masses. Prepare to be astonished by your striking individuality. Remain receptive to these revelations that might challenge everything you thought you were.
Dare To Dream
You will likely be filled with new air, like you're a balloon and the solar eclipse is pumping you with enough helium to fly. Now is not the time to play it safe. As scary as it might feel, dream bigger than you thought possible. Despite the risks involved, keep believing that anything is possible.
You're going to be especially in touch with your deepest and truest desires. Mars in Sagittarius will want you to take this vulnerability and go on an adventure with it. Plan something adrenaline-inducing, something you might've never done before, something that you'll never forget. It could have a major impact on your life's journey and change you for the better, in ways you could never have imagined.
If you sit at home with all this energy, it'll go nowhere. It might even start to build and build until you have no choice but to do something wild in order to release it.
Nurture Your Sensitivity
All this adventure and revolution will make a startling impression on your soul with Venus simmering in Pisces. You will be feeling every soft movement and every sharp turn with vivid intensity. You'll feel more sensitive to the world around you, more attracted to things you never used to consider attractive. Its magnetic pull might thrust you in the direction of a new friend, possibly even a new lover, someone that loves and understands you in the way you've been searching for. With all this self-realization happening during the solar eclipse in Aquarius, you might just meet someone who falls in love with and supports the new you. Regardless, there will be many at your side, experiencing their own personal journeys at the same time you're experiencing yours. You won't be alone with these feelings.