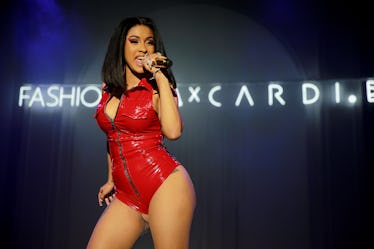 Fashion Nova's Cyber Monday Sale Is Here & I'm Ready To Buy Everything
Rich Fury/Getty Images Entertainment/Getty Images
Cyber Monday is officially here, which means that I've been preparing my wallet to feel some pain. (And I've also been clearing my closet to make room for new goodies.) Of all the Cyber Monday sales that I'm pumped for, the Fashion Nova 2018 Cyber Monday sale is at the top of my list. The clothing company has been a consistent winner for me — as well as many of my friends — since I was in college, and the fact that they're making their affordable clothes even more affordable in the name of Cyber Monday is a dream come true, and we love them for it.
Fashion Nova clothes that I have purchased are extremely well-made, and they are true to size. You will love seeing many of your favorite pop culture icons on the site, including Kylie Jenner and Cardi B. (Cardi B's Fashion Nova line even sold out on its first day in stock!)
Fashion Nova seems to know exactly what their customers want, and it's no surprise that shoppers are eager to buy the hottest trends they put out. Here are their Cyber Monday offerings — so start filling up your cart ASAP.
What are Fashion Nova's Cyber Monday deals?
The entire site is discounted from 40 to 90 percent. (Yes, you read that right, and no, I'm not kidding!) Fashion Nova is discounting select pieces for up to a whopping 90 percent discount. That means that that trendy $100 coat you've been eyeing could be on sale for just $10. Talk about some serious steals. Just make sure you use the code "CYBER90" to get your discount. Some pieces are even starting at just $2.99. (I pay more than that for my daily cup of tea.)
Unfortunately, you can't see how much each piece is being discounted until you start checking out. But let's be honest: It's the perfect time to treat yo' self. You really can't go wrong when the savings are this major.
Why do people love Fashion Nova so much?
Fashion Nova has grown into a brand that shoppers gravitate toward because of their trendsetting vibes. According to their website, they believe that their customers are "stars" who are "adventurous, inspirational, and badass." Their mission definitely shines through in their clothing. Knowing how my friends and I feel in their clothes, Fashion Nova garments really help women feel incredibly confident. The best part about it is that their pieces are relatively inexpensive.
Fashion Nova has become a brand well-known for its celebration of diversity of female bodies. They have something for every style and every taste. They even have maternity clothes on their site to offer fashionable options for expectant mothers.
It's clear that the brand knows their customer, and shoppers are thrilled with their products. Make sure you head on over to the Fashion Nova website ASAP to get your hands on everything you want. If Cardi B's collection is any indication, the best pieces are sure to sell out fast. Happy shopping!