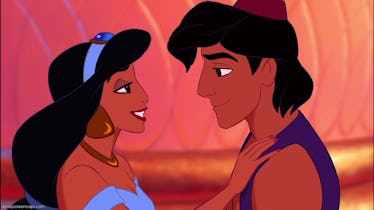 The Disney Movie That Perfectly Describes Your Relationship, Based On Your Zodiac Sign
The best movies are often the ones that reflect our stories and experiences back to us. Movies are both mirrors and empathy machines that help us better understand each other's life experiences and take a deeper look into our own. It's for this reason (among many others) that representation matters so much in cinema. It shapes both how we see ourselves and the world at large. Now, some of these experiences can be mind-opening and life-altering, but sometimes they're just for fun, like in the case of discovering the the Disney movie that describes your relationship, based on your zodiac sign.
While every relationship is different and unique, there are usually some core elements that can reoccur throughout your dating history, like the kind of person you're attracted to and attract, and the dynamics that you create based on your personality and how you interact with others. By knowing your zodiac sign and how the signs typically behave in relationships, you can start to spot the pattern — and which Disney archetype that fits into. So, if you feel like you're constantly recreating your own version of Lady and the Tramp or end up Tangled up with a bad boy on the regular, that's probably because, well, you kind of are. Here's which Disney movie is most likely to feel oddly familiar based on your zodiac sign.