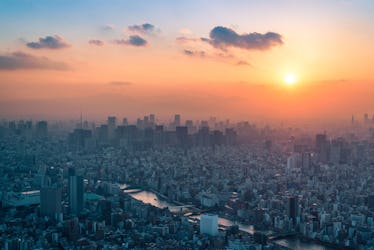 The "Destination Of The Year" For 2018 Has Been Revealed, So Grab Your Passport
Believe it or not, 2018 is almost over. You only have a little over a month to finish up your resolutions and make amends with the things you didn't get done. For instance, you may have told yourself that you were going to travel more — spend your summer backpacking around the beautiful countries of Europe, or check out at least five national parks. Well, I suppose there's always next year? There is next year, but do yourself a favor and figure out the items on your bucket list that are a must right now. The "Destination of the Year" for 2018 has officially been revealed by Travel + Leisure, so consider that first slot already filled by more adventure than you could ever imagine.
Let's be honest: You get to a point where you want to leave behind the lens of social media and influencers, and create your very own stories and visions. You want to pack your suitcase, hop on a plane, and come back a week or so later with a fresh perspective.
Traveling is all about immersing yourself in new cultures and maybe taking a step outside of your comfort zone. There is one destination that is absolutely worth putting on your bucket list right now. Travel + Leisure announced that there's one country that has seen an immense amount of international travelers in the past year, and beats everything else on your wish list. Can I get a drumroll, please? Actually, scratch that. Just pass me my passport, and then let's go.
What's the travel destination of 2018, according to Travel + Leisure?
I'm not going to keep you waiting another second. That just wouldn't be fair, and your hands are getting tired keeping that drum beat going. According to Travel + Leisure, 2018's "Destination of the Year" is Japan. Not only has it spiked in popularity among people who love to travel, but it's also a country that is rich in a variety of amazing sites, extraordinary foods, and mountain trails.
Jacqueline Gifford, Editor in Chief of Travel + Leisure, was quoted saying in a recent press release: "Our audience is passionate about Japan because it offers such a rich, well-rounded travel experience: you can learn about centuries-old culture and tradition while taking in cutting-edge architecture and exquisite food."
Gifford also mentions via the press release that the locals make a big difference: "And it is the people, of course, who make a destination: the graciousness and hospitality of the locals are something that truly resonates with our readers."
Think about the last trip you took, even if it was somewhere down the road: What stood out to you the most? Odds are, you saw some memorable sights or ate a bowl of pasta that was particularly amazing. But, there may be a person you met, or a conversation that you had with a solo traveler or local that truly changed the game. It turned your trip into an unforgettable experience, and made that particular corner of the world feel like home.
How can you make the most of your experience in Japan?
Travel + Leisure revealed Japan to be the top destination of the year, and it's easy to see why. The travel publication will be releasing a new monthly series in celebration of this announcement, called "Locals." This series will allow true travelers to get the insider scoop on what it's like to live in a place, rather than just see it as a tourist.
For their first episode, "Eat Ramen Like a Local," you will understand what goes into making authentic ramen, and know exactly where to eat it in Tokyo, all thanks to a ramen expert. The magazine will be releasing these videos on Instagram TV and TravelandLeisure.com.
From my own travel experience, I know that being able to connect with locals or experience a place on that different level is life-changing. It's often the one thing I love most about travel, and seeing new places for the very first time.
Like any experience or trip, it's entirely up to you to make it your own. Balance the hot tourist destinations with a local experience, and just know that you're in a country that has been named 2018's "Destination of the Year" for a reason. Everywhere on this planet is worth seeing in its own way. But, something tells me that one bite of ramen is going to have you saying, "I never want to leave."