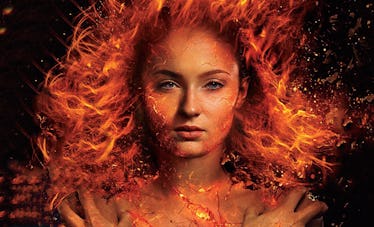 The 'Dark Phoenix' Teaser Trailer Warns Of Evil Rising From The X-Men
20th Century Fox
After months and months of delays, fans are finally getting their first look at the highly anticipated next X-Men movie: Dark Phoenix. The new movie will adapt the iconic comic-book arc in which Jean Grey merges with a cosmic entity to become a seemingly unstoppable killing machine. And now we finally have our first peek at the upcoming superhero flick, because 20th Century Fox dropped the first Dark Phoenix teaser trailer.
Unfortunately, we don't get to see much in the short new clip, but it does end with a promise for a full trailer in just a matter of hours. The 10-second teaser shows the poster for Dark Phoenix: Sophie Turner covered in shadow against a fiery, intergalactic backdrop. We also hear a pair of arguing voices: "What did you do?" "I protected her." "...from the truth." "This is your fault." "You don't belong here." "I've seen evil, and I'm looking at it now." The male voice is clearly James McAvoy's Charles Xavier, and it sounds like the female voice may be Jessica Chastain's antagonistic alien character. The two seem to be arguing inside Jean Grey's head over who will take control of the powerful, telekinetic mutant.
Check out the first teaser clip for Dark Phoenix below:
Of course, the most exciting part of the teaser clip is the ending, which promises a full trailer for the long-awaited movie will be out very shortly.
Dark Phoenix marks the second time that 20th Century Fox will have taken a shot at Jean Grey's famous comic-book storyline. Famke Janssen first played Jean Grey's transformation into Dark Phoenix in 2006's X-Men: The Last Stand, before the franchise was effectively rebooted in X-Men: First Class. That portrayal was not met well among many fans, since the Dark Phoenix arc only popped up in the final moments of the movie and omitted the cosmic element to the transformation. The new movie promises to be more faithful to the source material, in which Jean Grey will transform into Dark Phoenix after being struck by a mysterious cosmic force while on a rescue mission in space.
The movie is also a huge deal for comic book fans because it is likely the final chapter in the main X-Men film series as we know it now — aside from a couple of offshoot movies like The New Mutants and X-Force. Although director Simon Kinberg said that he hoped Dark Phoenix would kick off a new trilogy focused on the younger members of the X-Men, the whole franchise will likely be uprooted after Disney's acquisition of 21st Century Fox goes through.
Disney is expected to inherit all of Fox's properties at some point in early 2019, at which point the X-Men and Fantastic Four superhero franchises will be available for Disney to incorporate into its sprawling Marvel Cinematic Universe. Avengers directors are already spitballing ideas for how to incorporate the new superhero teams if the deal goes through, and Sophie Turner herself has voiced her hope that the studio change won't affect casting.
Dark Phoenix will be released on Feb. 14, 2019.