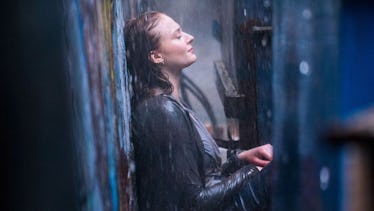 The 'X-Men: Dark Phoenix' Premiere Date Was Pushed Back & You Won't See It For A While
20th Century FOX
With Game of Thrones absent from the airwaves this year, fans could at least comfort themselves that they would get a fix of both Maisie Williams and Sophie Turner via the other major franchise the Stark sisters have joined: 20th Century FOX's Marvelverse. Turner has already established herself as Jean Grey in X-Men: Apocalypse, and Williams was part of the cast of the brand new spinoff, The New Mutants. But now, both films have been pushed back to 2019. So, when does X-Men: Dark Phoenix premiere? And why did both these films find themselves shuffled back to a point possibly after Game of Thrones has ended its run?
The good news is that, for X-Men, the date shift doesn't push it back very far. According to The Hollywood Reporter:
Simon Kinberg's X-Men: Dark Phoenix has moved from Nov. 2, 2018, to a Feb. 14, 2019, release — on roughly the same date as past successful President's Day weekend openings for Disney's Black Panther and Fox's Deadpool. Marking February as a destination for superhero tentpoles, the film will open Thursday in hopes of taking advantage of Valentine's Day as well.
As for The New Mutants, it had already been bumped out of April 2018 and was slated to come out one week after X-Men, on Feb. 22, 2019. But bumping back X-Men means bumping back Mutants to make room. The Mutant release will now come at the end of summer — Aug. 2, 2019.
According to Collider, while X-Men: Dark Phoenix is getting what is now becoming a plum release date for superhero films, that's not actually why the film is moving. Additional photography is reportedly needed to tinker with parts of the film which "aren't working" and the high-profile cast, including Jennifer Lawrence, James McAvoy, Michael Fassbender, and Sophie Turner, makes scheduling those re-shoots a pain in the neck. Turner, for instance, is committed until mid-summer filming the final season of Game of Thrones. That made the first available slot for additional filming August of 2018, causing the need to reshuffle.
But it's The New Mutants which is far more concerning. Re-shoots are common on blockbusters, but this is the second time the film has pushed back for re-shoots. Like Dark Phoenix, they can't really start until August when Williams gets out of her own Thrones contract, but Collider's sources say they are not just your run-of-the-mill pick-up shots. Apparently, FOX is pushing to make the entire film scarier. Collider reports,
The re-shoots that the studio wants are now even more significant. We're hearing that at least 50 percent of the movie may be reshot, and they're adding one or two new characters who will be present throughout the entirety of the film — this isn't simply adding a cameo. Moreover, Boone has been having some creative differences with the studio over the requested changes to the movie, so the reasons for the New Mutants delay are more complex than why Dark Phoenix is being pushed.
Unlike X-Men: Dark Phoenix, which is more of a straight superhero film, The New Mutants is part of FOX's more ambitious "genre-ized" superhero slate of spinoff movies. Those have included the hits Deadpool and Logan, the former of which was a smash hit at the box office and the latter of which some thought should have been in the Oscar conversation this past year. So The New Mutants, as the first "horror" version of an X-Men film, has a high bar to aim for. Let's hope the delays are worth it.
X-Men: Dark Phoenix arrives in theaters on Feb. 14, 2019. The New Mutants will come out on Aug. 2, 2019.