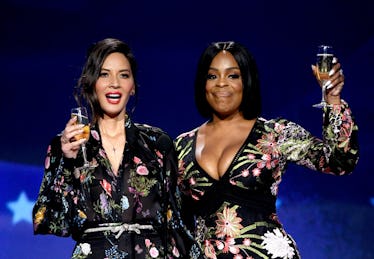 The Critics' Choice Awards Called Out All The Men At The Golden Globes & It Was Perfection
Kevin Winter/Getty Images Entertainment/Getty Images
When you saw this story was about the Critics' Choice Awards, you probably weren't sure what to expect from this underrated show. After the Golden Globes made such a statement with all the attendees in black for the Time's Up initiative — it's no surprise the Critics' Choice Awards wanted to jump on the conversation, as well. The Critics' Choice Awards "Toast To The Good Guys" was sharp, funny, and extremely well received by fans on Twitter.
The Golden Globes really set a high bar when it kicked off award show season on Jan. 7. In support of Time's Up, every nominee wore black and almost all the female attendees used all their spare moments to talk about the cause.
The Critics' Choice Awards is traditionally a very low-key show. It usually carries the same nominees as the other big ceremonies, but the celebs dress a little more casual and the whole show is a lot more laid back than the Globes or the Oscars. However, the Critics' Choice Awards showed all of us when host Olivia Munn and Niecy Nash presented a "Toast To The Good Guys." I mean, the Critics' Choice came hard with the comedy and social commentary. It was a hilarious, tongue-in-cheek segment that sent a strong message about equality and the social climate.
An example of one of the "thank you's" that came from Olivia Munn: "Thank you to all the producers for paying Niecy and I the same and Mark Wahlberg a million bucks." THE SHADE IS REAL.
Munn and Nash also called out the men who attended the Golden Globes for their silence about Time's Up, but did thank all the mothers who raised "good guys."
People on Twitter were living for these funny (yet sadly true) half-hearted thank you's.
Women are definitely shining this year at the Critics' Choice Awards. Gal Gadot was presented the #SeeHer award by the Wonder Woman director, Patty Jenkins. According to E! News, the #SeeHer award is presented to women who "push boundaries" and "recognize the importance of accurately portraying women across the entertainment landscape."
A spokesperson for the award ceremony said,
Gadot broke through this year as a powerful voice advocating for women, not only on screen as the iconic Wonder Woman, but in life as well, using her platform to encourage those in the entertainment industry and beyond to strive for fairness and parity across genders.
The award was well-deserved and Gadot received a standing ovation for being an overall bad*ss.
To begin her speech, Gadot talked about what the industry was like when she first started and the progress that has been made since then. She said,
When I started acting there were few female led movies and even fewer female-led directors. But the three highest grossing films were female led, one of them directed by Patty Jenkins. Although it's progress there's still a long way to go.
The three films Gadot is referring to are: Wonder Woman, Beauty and the Beast, and Star Wars: The Last Jedi. You go, ladies.
Gadot so eloquently explains in her speech that she uses her job as an actress to entertain, but to also elicit change and inspire others. She continued,
As artists and filmmakers I believe it is not only our job to entertain but our duty to inspire and educate for love and respect. I want to share our award for all the women and men who stand for what's right and those who can't stand and speak for themselves. I will never be silenced and we will continue to band together to make strides uniting for equality.
I didn't think it was possible to love Gal Gadot any more, but she literally proves me wrong daily. I loved all the girl power happening at the Critics' Choice Awards, and I hope it continues.
Check out the entire Gen Why series and other videos on Facebook and the Bustle app across Apple TV, Roku, and Amazon Fire TV.