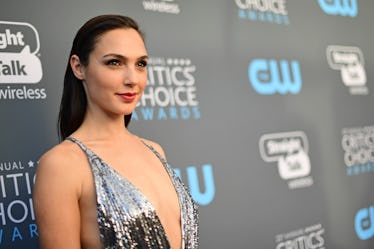 The Critics' Choice Gave This Actress The Most Badass Award & We're Obsessed With It
Matt Winkelmeyer/Getty Images Entertainment/Getty Images
Following the release of blockbuster phenomenon Wonder Woman, it's no secret that Israeli actress Gal Gadot is totally #winning at life. To further prove this point, Gal Gadot won a major award. So if you're asking yourself what is the #SeeHer Award at the Critic's Choice Awards, the answer is —Gadot's.
The mission behind the #SeeHer Award is to "push boundaries and recognize the importance of accurately portraying women across the entertainment landscape," a spokesperson told E! News on Jan. 11.
Gadot was presented with the award by Wonder Woman director Patty Jenkins. When presenting Gadot with the award, Jenkins described the actress as "her real Wonder Woman." We're emotional.
"She knew the great importance to this character and what she could mean to the universe if well done," Jenkins read off a sheet of paper, hands shaking. "I'm so proud for all that she does."
Gadot received the award amid a standing ovation, to which she humbly asked the audience to sit. In her speech, Gadot talked about what an honor playing the inspirational character Wonder Woman was to her and how the figure displays all the qualities she looks for in a female lead.
"Throughout my career I was looking to play strong, independent woman, a real one," Gadot says. "The irony of this is that later I was cast as Wonder Woman and all of these characters I looked I found in her."
Gadot went on to address the place of women in the entertainment industry, particularly her early discovery of the lack of female-led roles in films.
"When I started acting there were few female led movies and even fewer female-led directors," Gadot says. "But the three highest grossing films were female led, one of them directed by Patty Jenkins. Although it's progress there's still a long way to go."
These top grossing female-led films include Wonder Woman, Beauty and the Beast, and Star Wars: The Last Jedi. However, as Gadot says, there is still much to be done in regards to boosting visibility for female directors.
Following the 2018 Golden Globe Awards and its emphasis on the Time's Up campaign, a great deal of spotlight has been shown on the injustices facing women in the workplace, particularly Hollywood. Gadot shared her excitement for this movement in her speech and dedicated this award to the men and women speaking out against inequality. In her speech Gadot says,
As artists and filmmakers I believe it is not only our job to entertain but our duty to inspire and educate for love and respect. I want to share our award for all the women and men who stand for what's right and those who can't stand and speak for themselves. I will never be silenced and we will continue to band together to make strides uniting for equality.
Y.A.S
The spokesperson explained to E! News the choice behind Gadot receiving the award, stating her portrayal of of Wonder Woman was both an inspiration on and off the screen. The spokesperson said,
Gadot broke through this year as a powerful voice advocating for women, not only on screen as the iconic Wonder Woman, but in life as well, using her platform to encourage those in the entertainment industry and beyond to strive for fairness and parity across genders.
Two years from now, 2020 will represent the 100th year anniversary of (some) women gaining the right to vote. As women continue to break their silence and speak up against witnessed and experienced injustices, it's inspiring to see the changes that can be made through any medium.
Congrats to our gal Gal! You're truly an inspiration to us all.