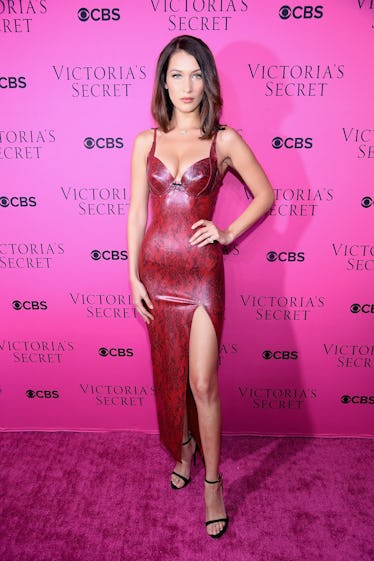 The Celebrity Style Icon You Should Emulate In 2018, Based On Your Zodiac Sign
Dimitrios Kambouris/Getty Images Entertainment/Getty Images
With 2018 rapidly approaching, you might be itching to switch up your style. It's natural, after all, to reinvent yourself in the new year. If it's time for a fashion makeover, but you're not quite sure where to start, these celebrity style icons will give you all the inspo you need to take your look to the next level.
As a Scorpio, I put trust in astrology. I, after all, am a classic Scorpio, with raven hair and naturally intimidating, mysterious features (aka chronic resting bitch face). When I give in to my Scorpio whims through the way I dress, I feel confident AF, like I can take over the world. When I dress in outfits that are out of my cosmic wheelhouse, I just don't feel as fearless. So I stick to the Scorpio uniform most of the time and slay life, wherever it takes me.
However, I want to switch it up in the new year, too. I need to add some new vigor to my predominantly all-black ensembles, so I've been looking to the celebrity style icons that are bound to pave the fashion way in 2018. If you too are feeling bored by your current wardrobe, just find your zodiac sign and let these fierce celebs inspire you.
Capricorn
Capricorn, Hailey Baldwin just gets you. Even when she's dressed to the nines, this model always has comfort in mind. Her style is classic and tailored with a twist.
Even in the most comfy outfit imaginable, she still looks high fashion. Now, if only I could look that effortlessly good in sweats.
Aquarius
Zendaya is the ultimate style icon for an Aquarius. Zendaya can wear any color, any cut, and any trend flawlessly. She doesn't shy away from bold patterns and bright hues.
Even while dressing down, she always keeps her looks on the cutting edge. Seriously, Zendaya can wear anything, and so can you!
Pisces
Paris Jackson just gets the Pisces vibe. As one of the most creative signs in the zodiac, a Pisces needs a look worthy of his or her grandiose imagination.
Whether you're dressing up or dressing down, flowy silhouettes fit you perfectly and express your easy-breezy personality.
Aries
Fiery Aries, Bella Hadid has got your back. Your looks are always sleek and sharp, just like your sense of wit.
Even when you're opting for a more casual look, you're still sharp and hot AF.
Taurus
Taurus, you're always fashion forward. So Shay Mitchell's style will suit you just fine. Always make an impact when entering a room, just like Mitchell does in this gold and bronze '70s inspired jumpsuit.
Even when you're opting for more comfy clothes, little details and embellishments will make a big difference in your look.
Gemini
Halsey perfectly embodies the Gemini look. She takes major fashion risks with her looks. She also somehow manages to switch up her outfits completely while still retaining the Halsey essence.
Halsey is a true style chameleon if there ever was one, making her the perfect motivator for Gemini style.
Cancer
The romantic and classy style of Kendall Jenner best embraces the Cancerian style ideals. You're always elegant and refined, whether you're on a red carpet or grabbing Slurpees at 7/11.
Dressing down is still dressing up for you. However, even at your most trendy, you never sacrifice comfort.
Leo
Cardi B's bravado, in both personality and style, just screams Leo. She takes the biggest style risks, embraces trends, and invents new ones.
Even when dressing down, pieces are oversized and true statements. All eyes will be on you when you emulate icon Cardi B.
Virgo
Virgos are known for their polished and tailored looks. Gigi Hadid, the queen of clean lines and well-fitting pieces, will give you some Virgo pieces for sure.
Even when you're wearing more relaxed outfits, make sure they're tailored to your gorgeous body. Classically clean pieces are your M.O.
Libra
Libras know how to balance fancy fabrics and bright hues, and Danielle Brooks is truly the star of edgy, vibrant outfits.
Even when dressing down, Brooks knows how to ground a bright yellow, perfectly cut dress with shiny black pumps. The key, as always, is in the balance.
Scorpio
Selena Gomez has been living in a uniform of all-black-everything lately, making her the perfect Scorpio muse. Strategically placed cut outs and just the right amount of skin give her looks the perfect air of mystery and intrigued.
When putting together more casual outfits, Scorpios are still illusively cool. Leather jackets and visually interesting elements (like embellished pockets) will intrigue those around you.
Sagittarius
Donald Glover gives you true Sagittarius style realness. The Sagittarius look is proper, but anything but prim. This adventure-loving sign is always up for bold colors and modernizing classic looks.
Even when casual, a Sagittarius gives you something to look at.