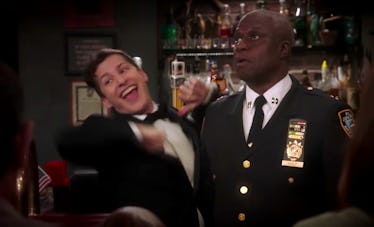 The First Trailer For 'Brooklyn Nine-Nine' Season 6 May Answer That Major Cliffhanger
NBC
It has been a long, stressful journey to get to Season 6 of Brooklyn Nine-Nine, but the network-jumping new season of the cop comedy is almost here. And over the weekend, NBC dropped our very first look at the new season. The first Brooklyn Nine-Nine Season 6 trailer not only shows the squad back together again, but it also seems to provide an answer to that big question the Season 5 finale left us with.
The first-look promo teaser may be short, but it seems to carry a big reveal about where Brooklyn Nine-Nine's story is headed in Season 6, which will air on NBC instead of Fox for the first time. The 15-second clip begins with Jake Peralta and Charles Boyle loading some heavy artillery, then we see the whole squad lift their beers for a toast to the Nine-Nine, but the final scene is definitely the most important one. An excited Jake starts dancing around Captain Holt at the bar, but Holt looks despondent the whole time and the rest of the squad yell at Jake to stop.
The moment seems to be a clear answer to the big cliffhanger from last season's finale. At the end of Season 5, Captain Holt launches a campaign to become the new Commissioner, and he finally gets an email confirming whether or not he got the promotion in the finale. But in true Holt fashion, it is impossible to tell by his blank expression whether he got the job or not. Holt's expression in this new trailer, along with the squad's reaction to Jake's dancing, seem to suggest that Holt did not get the Commissioner job. That's definitely sad news, but on the bright side, it does mean we don't have to worry about seeing Captain Holt any less.
Check out the first promo teaser for Brooklyn Nine-Nine Season 6 below:
This upcoming season is a big deal for the show and its fans for a bunch of reasons. Most obviously, this will be the first run of Brooklyn Nine-Nine episodes to air on NBC instead of Fox. Back in May, Fox shocked viewers by canceling the sitcom after its fifth season, which led to a massive outpouring of love and support from fans on social media. The very next day, NBC announced that it had picked up a sixth season of the show, which seemed to be a better fit for it anyway given co-creator Mike Schur's long-standing relationship with NBC and star Andy Samberg's history there.
NBC also bumped up its original episode order for the new season from 13 to 18 episodes, so fans have even more Brooklyn Nine-Nine to look forward to when it returns in a few months. But sadly, this upcoming season will contain a sad goodbye — Chelsea Peretti, who plays fan-favorite office administrator Gina Linetti, announced that she is leaving the show at some point in this season.
NBC has not yet revealed an exact premiere date for Brooklyn Nine-Nine yet, but star Terry Crews revealed that Season 6 is coming in January of 2019.