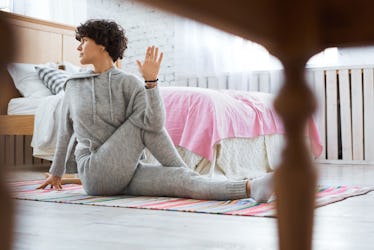 A Yogi Reveals The 5 Best Poses To Do When You're Too Full To Move After Thanksgiving
Yoga is my answer to everything these days. The moment I start to feel even the slightest twinge of PMS, for example, I'll take a child's pose to chill TF out. Or, if I can't sleep, I'll rock out any lingering energies in happy baby pose. With Thanksgiving drawing near, I know for a fact there's going to be a whole lot of indulging going on, meaning I'm also expecting a full-term food baby on Friday, Nov. 23. Naturally, I'll just have to rely on the best yoga poses for a stomach ache to stretch out any discomfort and stimulate digestion, seeing as how the last thing I'm going want to do is waddle to the gym with gassy bloating weighing me down.
While you may not go into Thanksgiving dinner with the intention of over-indulging in sweet potato casserole, your auntie's homemade apple pie, and a glass (or three) of apple cider sangria, it still happens. The holiday season only comes around once a year, though, so there's absolutely no shame in sampling all the foods among the feast that look particularly scrumptious to your taste buds. Just keep in mind that, oftentimes, especially around these kinds of celebratory buffets, your eyes can grow bigger than your stomach can expand, which means the more you eat, the fuller you'll feel post-feast.
But if it just so happens that, come Black Friday, you wake up with a stomach ache, go easy on yourself mentally, as well as physically. Take a break from the intense cardio sessions you've been doing, and don't even think about stepping into a piping hot yoga studio. "You can easily get sick [from these types of workouts on a full stomach]," says Beth Shaw, CEO and founder of YogaFit. The best thing you can do to aid digestion, she tells Elite Daily, is to go for a walk and follow up with some light yoga.
"Neither your exercise nor your digestion will be optimized when you try and do a heavy workout on a full stomach," Shaw explains, comparing the concept to driving a car up a steep hill with an empty gas tank. "Gentle and restorative yoga is the way to go without a doubt," she says, because your body is already working hard to digest all the food you've eaten the day before.
Yoga poses, like the ones listed below, can help your digestive system do its thing.