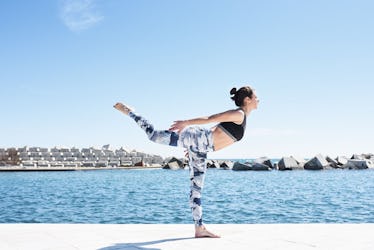 Yoga Teachers Reveal The Best Poses To Try When Stomach Pain Has You Doubled Over
Have you ever had a stomach ache that was so bad it almost made you panic? Same, girl. Whether it's nausea or gas pains that refuse to quit, it can feel downright unbearable when you're dealing with stomach cramps of any kind. And while your first lines of defense should definitely include a check-up with your doctor and/or medications like Pepto-Bismol, practicing yoga can also be good for an upset stomach, particularly in those moments when it feels like you're just lying there in agony, waiting for the discomfort to pass.
According to Heather Peterson, chief yoga officer at CorePower Yoga, yoga can be a wonderful, movement-based part of a multifaceted approach to maintaining gut health and treating your stomach issues. In the long-term, Peterson tells Elite Daily over email, this approach can also include organic, local, and seasonal foods to promote the production of healthy bacteria in your stomach, as well as herbs and supplements to cleanse and rebuild the gut. Specifically, think foods like broccoli, asparagus, bananas, flaxseed, apples, garlic, and basically anything with fiber in it.
But listen, in those moments when you find yourself literally doubled over in pain, I'm going to guess you probably don't want to be thinking about gut bacteria. So when those moments strike, here are a few expert-recommended yoga poses that'll bring you some relief.