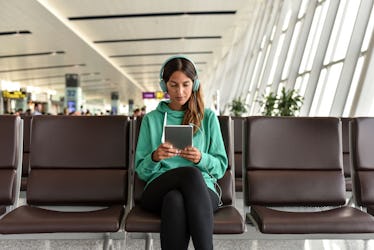 The 8 Game-Changing Travel Products I Bring On Every Flight Are Tried & Approved
I'm not afraid to say it: Long flights suck. There is not much fun about being stuck on an airplane for hours on end, possibly sleep-deprived, internet-deprived, and usually, without much personal space. But through my extensive travels, I've figured out the best travel products for long flights that can make your flights just a little more bearable.
From hydrating face products to the best memory foam neck pillow, there are a few things that I refuse to board a plane without. (I'm not kidding. The one time I thought I lost my neck pillow, I went straight to the store to buy a new one, but then someone ran up to me to tell me I had dropped it back at the security line so it saved me $30.) I've accumulated quite a large collection of things I like to have on planes that are in constant rotation on my various trips, but these eight things are what I absolutely have to have with me every single time I board a plane.
Even though long flights can be extremely stressful and uncomfortable, indulging in these few personal luxuries will make your time on the plane much more enjoyable. Trust me.