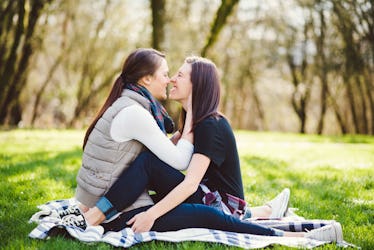 The Loveliest Spring Date Idea For You & Your Partner, Based On Your Zodiac Sign
Spring is almost officially here, and with winter ending soon, it's time to finally come out of hibernation and get back into the swing of things with some springtime romance. Yep, that's right, the season of Netflix and chill is over, which also means it's time to roll out your best spring date idea to take advantage of warmer weather. Sure, staying in to snuggle and taking advantage of all that *ahem* body heat was nice, but there is a great, big world out there just waiting for new romantic adventures.
So whether you're already boo-ed up or you're still on the lookout for new love, spring is the perfect time to lean in to the romance. That's because, with the world suddenly in bloom around you, it is the ideal time for your love life to bloom, too. Spring is also a great time for new starts and new adventures, so naturally, it also means it's time to take some chances on new kinds of dates, to try new things (and new people), and just feel renewed in whatever way you can.
But what exactly is the perfect springtime date for you? Well, if you're not sure, you can always look to the stars for guidance. Here's what you should put on your spring date to-do list, according to your zodiac sign.
Aries (March 21 To April 19): Head Out For A Mini Road Trip Adventure For Two
Winter is tough for Aries gals who spend the season full of pent-up wanderlust. So there is nothing better for getting back into the swing of things and arousing some regular old lust than by getting back out into the world with a day (or two) spent seeking new horizons and adventures on the road.
Taurus (April 20 To May 20): Cozy Up By A Bonfire On The Beach
Nothing says romance to a warmhearted Taurus than snuggling up close to the one they love (or at least desire). A stroll down the beach at sunset followed by a make-out session by a bonfire is the perfect way to ring in the season.
Gemini (May 21 To June 20): Go For A Romantic Hike In A National Park
For intellectual Gemini, it's easy to get caught up in their heads, which is why hiking and taking in the beauty of nature helps to ground them and be present in the moment. A good thing to be on a date, right?
Cancer (June 21 To July 22): Eat, Drink, And Be Merry At A Local Festival
Winter is tough for Cancer gals who are dying to get out and enjoy the world. So pack it all in with a day spent at a local festival. Lots of people, food, drinks, and entertainment is exactly what Cancer needs to shake off any lingering winter blues.
Leo (July 23 To Aug. 22): Have An Alfresco Candlelit Dinner For Two
Faithful and loving Leos appreciate some good old-fashioned romance. They are also sensual people, so combining candlelight, a delicious meal, and the warm evening weather is an absolute dream date for them.
Virgo (Aug. 23 To Sep. 22): Spend A Sweet Day At The Zoo
As practical and critical as Virgos can be, there is one thing you can always count on to soften their heart and silence their inner critic: adorable animals. If you want to see a Virgo melt, take them to the zoo in the spring.
Libra (Sep. 23 To Oct. 22): Go For A Leisurely Bike Ride Through The Park
There is something appealingly breezy about a laid-back bike ride through the park for easygoing Libra. The wind in your face and the old-school romance of it is a heady cocktail for a sign that is a true romantic at heart.
Scorpio (Oct. 23 To Nov. 21): Hop On A Rollercoaster At Your Local Theme Park
Scorpios love excitement and are an incredibly thrill-seeking sign, so it's no surprise that a springtime date is the perfect excuse for some visceral thrills on a roller coaster. Hop over to a nearby amusement park and scream your lungs out with your partner.
Sagittarius (Nov. 22 To Dec. 21): Get Silly With A Round Of Mini Golf
Sag gals are always up for a good time and never take themselves too seriously. They aren't afraid to be silly and just have a laugh, so hitting the mini links on a spring date is a perfect fit. It's guaranteed to be a laugh-filled date, because who's good at golf anyway?
Capricorn (Dec. 22 To Jan.19): Take In The Sunset With An Outdoor Cocktail
For disciplined Capricorn, it may be hard to break out of their go-getter routine, which is why a nice cocktail on a rooftop or outdoor bar is the perfect spring date. It's like a mini vacation where they are able to relax and let go of all self-imposed pressures and just be in the moment.
Aquarius (Jan. 20 To Feb. 18): Catch A Movie In The Park (Or Drive-In)
Despite really having a huge heart, Aquarius girls are soft on sentimentality, so going all-in on "romance" is just not their thing sometimes. However, they are perfectly happy to cozy up during a movie under the stars.
Pisces (Feb.19 To March 20): Go Old School With A Romantic Picnic At The Park
The perfect way to woo a Pisces in springtime is to keep things intimate and traditionally romantic, which is why a picnic in the park is a perfect springtime date. Snuggling up on a blanket, looking up at the springtime sky, and sipping on mimosas is the way to any Pisces' heart.
Check out the entire Gen Why series and other videos on Facebook and the Bustle app across Apple TV, Roku, and Amazon Fire TV.
Check out the "Best of Elite Daily" stream in the Bustle App for more stories just like this!