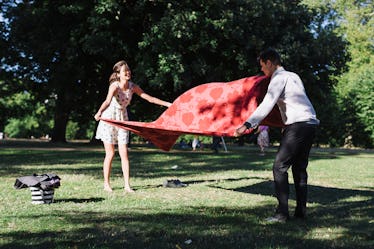 5 Epic Spring Date Ideas For When You & Your Significant Other Are Totally Broke
When it comes to winter, I can think of three date ideas without getting overly creative: grabbing drinks, grabbing dinner, or grabbing takeout and firing up Netflix. (Not sure we'd call that last one a proper date.) Yes, there are concerts and bowling alleys and museums and brewery tours, but a lot of those events require additional planning and oh... additional money. If you and bae are broke, I have some excellent news for you: the warm weather that accompanies the end of winter provides plenty of cheap spring date ideas for your broke selves to go on.
Once the temperature hits 60 degrees, the great outdoors is available to you as the most beautiful date venue of all time. (Pending rain, but such is life.) Grabbing a coffee together and taking a walk around the block becomes more romantic in springtime than were you bundled up in parkas. By March, most parks have grass for you to sit on. By April, festivals and flea markets pop up all over town for you to check out. Spring is ripe with date ideas that require very little cash, because you're saving for that new couch anyways. If you and your partner are looking for activities to keep the romance alive this spring, here are some ideas:
1. The Classic Picnic
Who doesn't love a good, old-fashioned picnic? Especially if you live in a place where you can have open containers of adult beverages in your local park. The only major expense at a picnic is the food, which you can sort of skimp out on, because everything's more adorable and enjoyable when you're eating it on a blanket. Think about it: picnics make PB & Js less "elementary school lunch," and more "romantic and cute." Find your largest blanket, cut the crusts off some tiny sandwiches, grab a pitcher of lemonade (or beer) and head to the park!
2. Set Up A "Drive In" Movie
Spring is usually too early in the year for the free summer movie festivals to start up, but there's no reason your and your partner can't make your own "drive-in." Don't worry — you don't need a car, or even access to a projector. (Though borrowing one to project a movie on a sheet would be fun.) Just grab a blanket and some pillows, then head out to your backyard or rooftop to snuggle up with a fully charged laptop and some snacks.
3. Go Fly A Kite!
But seriously, do it. When's the last time you flew a kite? Here's the thing: they're cheap (especially if you don't mind adding to Jeff Bezos' pockets), they're fun, and they're a bit of a challenge to fly. (Teamwork!) Plus, what could be more romantic than getting tangled up with your sweetheart on a beautiful sunny day? Most importantly: make sure it's somewhat windy before you head out, or else your date will be a bust.
4. DIY Outdoor Cocktail Bar
And by "DIY outdoor cocktail bar," I just mean find a backyard, your apartment's common space, or even head out to your tiny fire escape with a pitcher of your favorite beverage. Then you can soak in the day without worrying about the crowds or prices at your city's rooftop hot spots. I'd highly suggest a pitcher of margaritas that you serve in cute picnic cups with a salt rim and umbrella to make you feel fancy-cute.
5. Go For A Bike Ride
Whether you own your own bikes, or you're able to rent from a shared bike program in your city, there's nothing like exploring a new park, neighborhood, or waterfront on wheels. Oh, and with your special person, of course. I thought about suggesting tandem bikes, but they feel both trite and incredibly dangerous, so I'd suggest you and your partner stick to the basic bicycle. You can pull over, take selfies, grab a beer, whatever — just don't drink and bike.