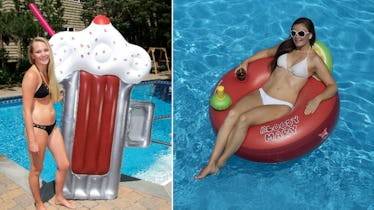 The Best Float That'll Make A Splash This Summer, Based On Your Fave Drink
Those chill summer days relaxing poolside can't come soon enough. I've been waiting all year for this beautiful season, and in order to make the most of a carefree summer, you need two things: a dope pool float and your favorite drink in hand. Lucky for you, it's the summer of inflatable pool floats, so there's a float for just about everything you can think of. Some of the best pool floats for summer even come in the shape of your favorite drinks, so combine those two summertime essentials, and get to floating on.
Whether you're a wine drinker (if you're 21 and up), or into cocktails like the Appletini, there's a pool float out there that has your name written all over it. The best part about these eight pool floats is most of them come with a very useful cup holder, so you don't need to leave your beverage of choice behind when you take a dip in the pool. Seriously though, everything you need for the ultimate summer is in one inflatable that you can take on every family vacay, lazy pool hang, and beach day with your friends. Now, it's time to hit up the bar, because I'm ready to order a round of summer pool fun.